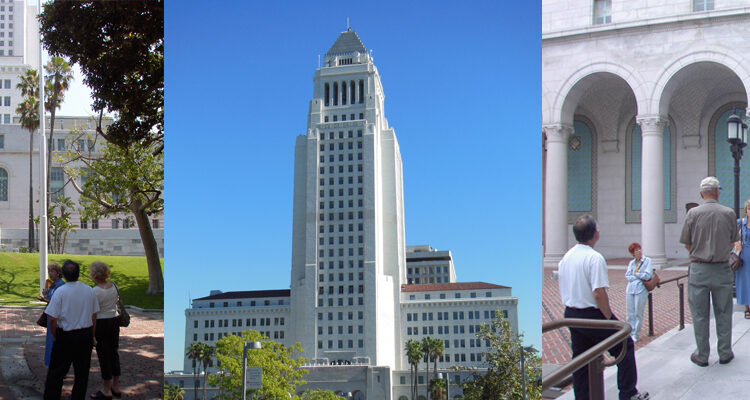 We kicked off our year-long celebration of the 35th anniversary of our walking tour program with this sold-out tour of L.A.'s City Hall.
Learn more about upcoming events and offers celebrating thirty-five years of walking tours >
Sunday, March 22, 2015
One of the most iconic buildings in Los Angeles, the 1928 City Hall is a stunning example of Art Deco civic architecture. From the ziggurat-topped tower to the extravagant marble rotunda and elegant Council Chambers, no expense was spared in building this civic monument.
Three architects were involved in designing City Hall: John Parkinson (concept and architectural design), Albert C. Martin, Sr. (structural design), and John C. Austin (working drawings and general administration). Another team designed and created the art and decoration, including Austin Whittlesey (interior design), J. Donald Prouty (tile design), and artists Anthony Heinsbergen, Henry Lion, and Herman Sachs.
Severely damaged by the 1994 Northridge earthquake, City Hall underwent a multi-year $299 million restoration, reopening in 2002.
This 1.5 hour tour explored both the exterior and the interior of this great structure, sharing stories of its history and design. The tour included a visit to the 27th-floor tower observation deck.
The tour was presented in conjunction with Project Restore.