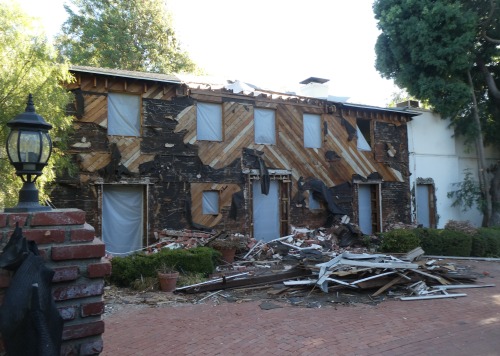 Blog
Los Angeles Needs Stonger Demolition Deterrents
November, 19, 2019
Preservation is fundamentally about people and the stories told through historic places. If you no longer have the place, can you still tell the story? You can, but it won't be as real, tangible, or relatable if you can't see, touch, and experience the place in which the story took place.
Demolition is an ultimate and irreversible loss. Over time, we quickly forget a lost building and its stories ever existed. This is especially true for subsequent generations that will never have the opportunity to learn this history. It is the reason why the Conservancy works so hard to develop alternatives and press for ways to keep and reuse older and historic buildings.
Not all demolitions are the same, especially those that occur without first securing proper permits and approvals. The City of Los Angeles is clear, stating in its building code that "no person shall demolish any building or structure unless said person has obtained a permit." In late September 2019, the owner of 100 Delfern Drive in Holmby Hills began demolition without the necessary permits in hand. This 1938 Colonial Revival-style house was once the longtime residence of Hollywood actor Eva Gabor. Though the City's Department of Building and Safety issued a stop-work order, the damage was already done with the front of the house partially demolished.
This demolition was especially egregious as the house was currently pending review by the City's Cultural Heritage Commission as a potential Historic-Cultural Monument (HCM).
Councilmember Paul Koretz initiated the nomination and the full city council voted to support this effort in early September, prompting an emergency stay on any demolition activity and major alterations.
While the house at 100 Delfern Road is important for its association with Eva Gabor, its story is more than that alone. It was designed by Paul R. Williams, one of our preeminent architects whose career spanned almost six decades, from 1923 to 1973. Williams achieved success where others failed, breaking through racial barriers and becoming the first African American member (and later, Fellow) of the American Institute of Architects (AIA).
The Gabor house now sits with its grand portico and front details in a pile of strewn debris while awaiting an outcome on its potential HCM status. This is an especially sad commentary on how some consider older and historic homes only for their location and lot size. While not every older home needs to be preserved, far too many are needlessly thrown away without considering alternatives or the impacts of out-of-scale new construction on adjacent homes and neighborhoods.
While it is still too soon to know what will happen with the Gabor house, other historic homes are currently under demolition threat— or have already been demolished—including more than a few designed by Williams. An example is the 1938 Tudor Revival-style Gladys Collins Lehman house in Toluca Lake. Most recently advertised for sale as an "utterly enchanting home" by "'architect to the stars', Paul Williams," the home was demolished in August 2019, despite its owners acquiring a permit to remodel only and add onto the existing house. Unfortunately, these are not the first nor likely the last houses by Paul R. Williams to be demolished.
GUARDRAILS FOR DEMOLITION
This is a familiar story in Los Angeles, with demolition becoming the norm. Some may recall the Art Deco Mole Richardson building, in Hollywood at La Brea and Willoughby, and its surprise demolition in 2014. In a period of only five days, a demolition permit was applied for and issued. The community remained unaware of the permit until the building was razed months later. At that time, the City lacked a process or requirement for public notice of demolitions.
Through our efforts and those of Hollywood Heritage, the loss of the Mole-Richardson building prompted the City to approve the Demolition Notification Ordinance, a citywide policy that requires public disclosure of demolitions for structures older than forty-five years.
Established in late 2014 and amended in 2018, property owners must inform abutting neighbors and their councilmember's office of any planned demolition activity and post a visible public notice on the property. This process creates a thirty-day window for stakeholders to potentially negotiate preservation alternatives. This could include nominating a property for HCM designation, as has occurred for other threatened historic properties since this ordinance went into effect. We owe many thanks to Councilmember Mitch O'Farrell for leading this effort toward passage.
The City's "scorched earth" policy is another tool available to discourage illegal demolitions. If a building is found to have been demolished illegally, the City can impose penalties, including monetary fines and a five-year construction moratorium on the site. Though too late to save the building, it can act as a deterrent to demolition. For instance, in 2013, the owner of an early 1920s Spanish Colonial Revival house in the Whitley Heights Historic Preservation Overlay Zone (HPOZ) tore down the property in its entirety, despite having been issued a permit for interior remodel work only. In 2014, the owner of the San Marino Villas demolished the Mediterranean Revival apartment building and HCM without any permits. In both of these cases, the City invoked its scorched earth policy, limiting development on the site.
In May, Councilmember O'Farrell introduced a motion to revisit the City's current tools to address unpermitted demolition, remodels, and additions. Some offenders factor in the penalties for violations as a cost of doing business and proceed even without proper permits because the potential for profit is too enticing. With the problem only escalating, the Conservancy strongly supports this effort. We look forward to seeing what comes of this motion.
If you suspect a historic home in your neighborhood is threatened with demolition, give us a call at (213) 623-2489.