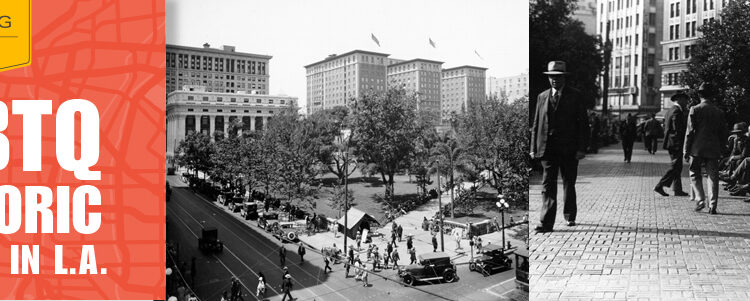 History of LGBTQ Los Angeles
The LGBTQ history of Greater Los Angeles touches upon the many racial, gender, religious, sexual, and socioeconomic identities and communities that contribute to the diversity of the region.
To date, current literature on queer history and, more specifically, the queer history of Los Angeles, is sporadic and largely incomplete. (Read how and why we use the term "queer.")
Conventional scholarship did not begin to treat the history of LGBTQ individuals as a legitimate field of study until the 1970s, when critical thought around topics such as gender and sexual identity began to emerge.
Early attempts to document LGBTQ history did not focus on communities, but rather on the experiences of well-known and well-respected historical figures such as Walt Whitman, Frida Kahlo, and Alexander the Great.
From the 1820s through the 1970s, LGBTQ life in Los Angeles was largely underground and functioned along the lines of a subculture.
For decades, non-heteronormative behavior in Los Angeles was either illegal or cause for investigation. Bars and private residences served as primary social spaces for queer individuals to gather and meet one another, though police harassment was common in public establishments.
For many LGBTQ individuals in the region, the entertainment industry provided a safe and open work environment. The same social mores that gave performers the freedom to be themselves were often extended to those who worked behind the scenes.
During and immediately following World War II, the LGBTQ population in Los Angeles dramatically increased, much as it did in other major cities like Chicago, New York, Philadelphia, San Diego, and San Francisco.
The postwar era witnessed the rise of new LGBTQ civil rights organizations, social spaces, and cultural institutions as perceptions of sexual and gender identity evolved.
Beginning in the 1970s with the onset of the gay liberation movement, the nature of queer public spaces began to change drastically.
Many LGBTQ bars reached their peak popularity in the 1970s and 1980s, often meeting full capacity nightly. The 1990s saw a resurgence of interest in queer literature, and, as a result, queer bookstores grew more common in major cities across the country.
By the early 2000s, LGBTQ communities began experiencing unprecedented levels of acceptance and positive visibility within mainstream heteronormative society. This resulted in a large decrease in patronage to LGBTQ establishments that were once essential fixtures in the 1970s, 1980s, and 1990s.
Over the last several years, many establishments that once catered exclusively to queer individuals have changed hands or closed their doors. Yet there are anomalies to this pattern.
Neighborhoods such as Downtown Los Angeles, where residential populations have grown and attracted a younger demographic, have actually seen a rise in the establishment of new LGBTQ bars and nightclubs.
LGBTQ Terminology
Please see our Explanation of LGBTQ Terms to learn more about the terminology used on this microsite.
For More Information
For a more detailed history of LGBTQ places in Los Angeles, including recommendations for further reading, please see the City of Los Angeles' LGBT Historic Context Statement.