Architect
Garrett Eckbo
Widely regarded as the father of Modern landscape architecture, Garrett Eckbo saw landscape design as a vehicle for social change. His seminal 1950 book Landscape for Living essentially defined Modern landscape architecture, and his influence on generations of designers continues today.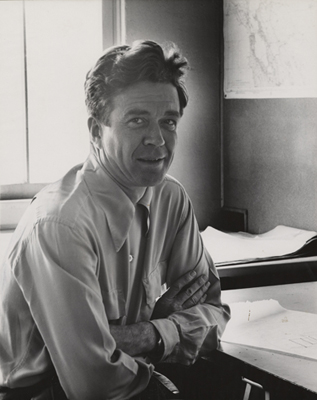 Garrett Eckbo (1910 - 2000)
In his fifty-year career, Eckbo created outdoor environments for some of the most exceptional Mid-Century Modern projects in California. He also designed outdoor environments for corporations, college campuses, urban squares, cooperative housing communities, churches, and more. He even modernized housing for migrant farm workers.
One of his most prominent commissions was the Brody estate in Holmby Hills (1949), in collaboration with architect A. Quincy Jones and interior designer William Haines. For art patrons Sidney and Frances Brody, Eckbo produced one of the most admired residential landscape designs in Los Angeles.  
Born in Cooperstown, New York in 1910, Eckbo and his mother relocated to Alameda, California after his parents divorced. He received a bachelor's degree in landscape design from UC Berkeley in 1935. In 1936, he was awarded a scholarship to attend Harvard School of Design, where he received a master's degree in 1938. 
It was at Harvard where Eckbo became disenchanted with traditional landscape design and began linking the roles of architecture and art to landscape architecture. At Harvard, Eckbo was greatly influenced by master architects Walter Gropius and Marcel Breuer. He also sought inspiration from Modern artists, who influenced him to create gardens and landscapes as sculptures and paintings.
After graduating from Harvard, Eckbo moved to Northern California. With Robert Royston and Edward A. Williams, he founded what would become the very successful firm of Eckbo, Royston and Williams.
In 1946, Eckbo moved south to head the firm's Los Angeles division. Here, he worked with renowned architects including Richard Neutra, Gregory Ain, Pierre Koenig, and John Lautner. 
In 1958, Eckbo, Royston and Williams became Eckbo, Dean and Williams. In 1964, Eckbo formed the prolific firm of Eckbo, Dean, Austin and Williams (EDAW). In 1979, Eckbo left EDAW and stablished Garrett Eckbo and Associates, and ultimately, Eckbo Kay Associates.
Eckbo taught at USC's School of Architecture from 1948 to 1956.  In 1965, he returned to UC Berkeley, where he served as chair of the Landscape Architecture Department until 1969 and remained on the faculty until 1978.  
Eckbo received numerous awards for his enduring landscape designs, including the American Society of Landscape Architects Medal of Honor in 1975. He passed away in 2000 at the age of 89.
Related Places
Place

Poppy Peak National Register Historic District

Place

Union Bank Square

Significant for its Corporate International style design and Garret Eckbo landscape, Union Bank Square was the first com...

Place

Avenel Cooperative Housing
Place

Poppy Peak National Register Historic District

Place

Union Bank Square

Significant for its Corporate International style design and Garret Eckbo landscape, Union Bank Square was the first com...

Place

Avenel Cooperative Housing

Place

Demolished: Twenty-eighth Church of Christ, Scientist