Architect
William Krisel
William Krisel is one of the few architects to fully realize the postwar dream of bringing Modernism to the masses.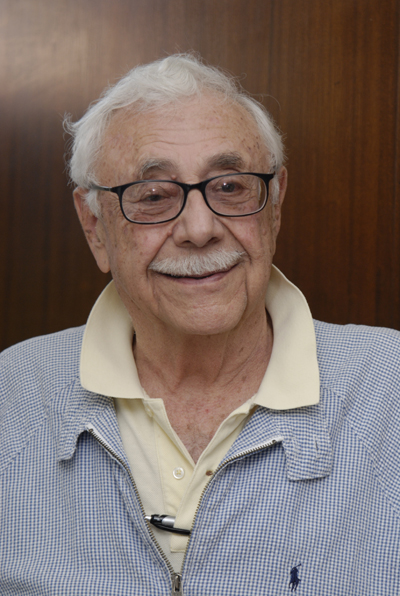 William Krisel, AIA (1924-2017 )
By his own account, Krisel was responsible for designing over 40,000 Modern homes in the U.S., 30,000 in Southern California alone.
Unlike many architects who sought recognition through the design of custom homes, Krisel happily pursued creating affordable, postwar tract developments. He saw the opportunity in working with developers to provide beautifully Modern and functional homes for the general public. With partner Dan Palmer, he cultivated strong business relationships with developers and, by the mid-1950s, worked with some of the largest home builders in the country.
Krisel had quite an exotic upbringing. He was born to American parents in China in 1924. As a son of a diplomat, he learned to speak Chinese fluently. After the Japanese invasion of China in 1937, the family relocated to Los Angeles.  
Krisel's education at USC's School of Architecture was interrupted by World War II, when he enlisted as a reserve and became a Chinese interpreter for an Army general. After the war, he resumed his education and graduated from USC in 1949. 
Between 1950 and 1966, he partnered with architect Dan Palmer. Palmer & Krisel designed custom homes and commercial projects before transforming the landscape with large-scale Modernism for the masses. In 1954, Krisel added another dimension to his work, becoming a licensed landscape architect.
In 1955, Palmer & Krisel designed a tract of 287 Modern homes in the San Fernando Valley, called Corbin Palms in Woodland Hills. Also in the Valley is one of the firm's most distinct mid-twentieth century projects, a 1959 tract in Northridge called Living Conditioned Homes. 
Palmer & Krisel designed homes with efficiency and dramatic flair, featuring butterfly rooflines, stacked stone cladding, decorative concrete blocks, and horizontal orientation.
With developer Robert Alexander, Palmer & Krisel created almost 2,000 homes in the Palm Springs area. After the success of the Palm Springs tracts, developers commissioned the firm to replicate them in San Diego.
From 1969 to 1979, Krisel partnered with architect Abraham Shapiro, designing a range of commercial structures including high-rise apartments, medical buildings, and hotels. 
Krisel built what he called his "dream home" in Brentwood in 1955. It served as the Krisel family home until 2014, when it was sold to a buyer who had professed his passion for preserving it. The new owner demolished the home soon afterward.
Krisel enjoyed the renaissance of interest in his work, including retrospective exhibitions, publications, and a documentary film. In 2006, he designed five new homes based on the original designs for the Palm Springs Alexander tract, unwavering in his belief that "good, modern design can make one's life happier."
William Krisel died at the age of 92 on June 5, 2017.