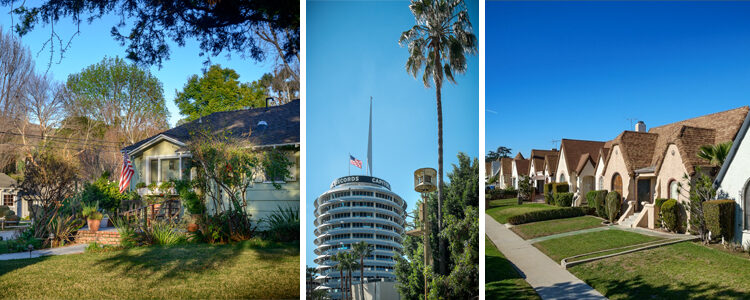 SurveyLA: The Los Angeles Historic Resources Survey
2017 Chairman's Award Recipient
Project Team
Project Leads: City of Los Angeles, Department of City Planning; J. Paul Getty Trust
Historic Preservation Consultants: Architectural Resources Group; Historic Resources Group; GPA Consulting; KWH Associates; Page & Turnbull; Chattel, Inc.; ICF; Sapphos Environmental, Inc.; LSA Associates
GIS/FiGSS Consultant: NorthSouth GIS, LLC (NSG)
---
SurveyLA is the largest and most comprehensive survey ever completed by an American city. This multi-year project to document L.A.'s historic resources covered 880,000 land parcels and 500 square miles. Many different types of resources were evaluated, including apartment buildings, religious buildings, coffee shops, air raid sirens, theatres, bridges, and more. Architectural periods span from Victorian to Late Modern.
For a city as large as Los Angeles, a citywide survey is an enormous undertaking. Starting with pilot surveys in 2009, the survey took eight years to complete. Before SurveyLA, only fifteen percent of the city had been surveyed to identify historic resources. SurveyLA evaluated neighborhoods across the city, from the San Fernando Valley, to the Harbor, and everywhere in between. SurveyLA proved that every community has a history, and each one has historic resources that merit recognition.
Throughout the project, the City held outreach events with community members to help identify locations of social, cultural, and historical significance. This crucial outreach helped to identify locations that would not have been recognized otherwise. It also helped broaden the public's understanding of preservation beyond the protection of architecturally significant buildings. 
SurveyLA was developed according to best practices in the field of historic preservation, including standards and guidelines developed by the California Office of Historic Preservation and the National Park Service. Yet SurveyLA's use of new technologies also modernized the process and made survey work more efficient. 
The City designed an application called the Field Guide Survey System (FiGSS)for use on tablets , which made it easier for survey teams to record data in the field. Surveyors used FiGSS to photograph and record individual properties and historic districts. FiGSS also allowed surveyors to easily reference information such as street names and addresses, construction dates, any previous survey data, designated historic resources, and information collected through community outreach. 
In addition to identifying historic resources through survey work, SurveyLA also developed L.A.'s first citywide historic context statement to provide a framework for identifying and evaluating these resources. The historic context statement includes nine broad contexts that address more specific themes. 
For example, the broad context of Ethnic/Cultural Contexts includes context statements on Jewish history, Latino Los Angeles, and Lesbian, Gay, Bisexual and Transgender (LGBT) history. Components from the overall historic context statement were added to the FiGSS application so that surveyors could record this type of data directly in the field. 
The completion of SurveyLA represents a huge milestone for preservation in Los Angeles. The surveys are structured according to the City's thirty-five Community Plan Areas, strengthening the link between preservation and planning and enhancing our understanding of the composition of entire areas. 
In addition to providing great value for planning in Los Angeles, SurveyLA serves as a model for other local governments to link historic preservation with sound planning policies. This monumental project earned the Conservancy's 2017 Chairman's Award.