Architect
John Lautner
John Lautner was one of the most important American architects of the twentieth century, and perhaps one of the most misunderstood.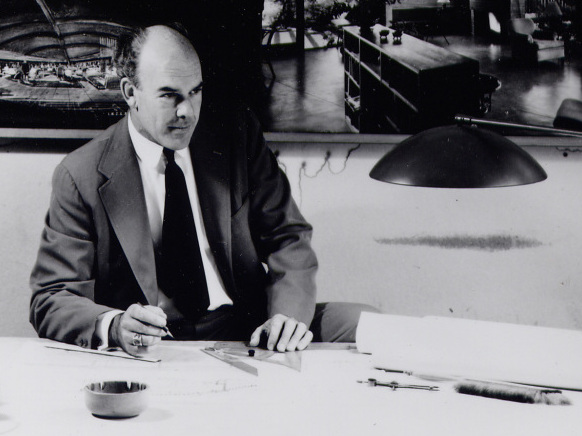 John Lautner, FAIA (1911-1994)
John Lautner's career spanned fifty-five years and left an indelible mark on the built environment of Southern California.
Lautner was born in 1911 and raised in Marquette, Michigan. His remarkable natural surroundings made a deep and lifelong impression. He had his first building experience at the age of twelve, when he helped his father construct a chalet designed by his mother. 
He earned a degree in English from what is now Northern Michigan University, whose only architecture class at the time was a history survey. After reading Frank Lloyd Wright's autobiography, Lautner applied to Wright's Taliesin Fellowship in Spring Green, Wisconsin. He served from 1933 to 1939 as one of Wright's original Taliesin Fellows. 
Lautner adopted Wright's philosophy of "organic architecture," which promotes harmony between man and nature by exploring the interplay of people, spaces, and the natural and built environments. 
He began practicing in Los Angeles in the late 1930s. Lautner designed over fifty significant structures in Southern California alone, each a unique expression of his constant exploration of new ideas and materials. 
Unlike Michigan, the Southern California climate and light allowed Lautner to use large planes of glass, exposed wood, and other elements that brought nature into his designs. He was an engineering genius, able to juxtapose different angles and shapes to create forms that were at once organic and futuristic. He pioneered the use of concrete as both a sculptural and architectural element. 
He was instrumental in creating the California coffee shop, designing both Googie's and Tiny Naylor's (both demolished). Yet most of his best-known works are residential, with iconic designs including the 1960 Malin residence (Chemosphere) in the Hollywood Hills and the 1963 Reiner residence (Silvertop) in Silver Lake. 
In 1970, Lautner became a Fellow of the American Institute of Architects. He received the Gold Medal from the Los Angeles AIA chapter in 1993. Lautner was active in a number of projects when he died in 1994 at the age of 83.
Despite its great significance, Lautner's work was largely overlooked in his lifetime. It has gained increasing recognition in the years since, with exhibitions, publications, a documentary, and appearances in numerous films, commercials, and other media. 
Yet his legacy remains vulnerable. His 1951 Shusett House in Beverly Hills was demolished in 2010, and AbilityFirst's Paul Weston Work Center (1979) in Woodland Hills was proposed for demolition in 2014. 
The nonprofit John Lautner Foundation was created in 1996 to celebrate, maintain, and protect Lautner's work. For more information, visit johnlautner.org.
Related Places
Place

Harriet and Samuel Freeman House

Place

Reiner-Burchill Residence (Silvertop)
Place

Harriet and Samuel Freeman House

Place

Reiner-Burchill Residence (Silvertop)

Place

Malin Residence (Chemosphere)