Architect
Welton Becket
As the go-to architects known for their attention to detail and the client's needs, Welton Becket, FAIA and his associates designed some of Los Angeles' most iconic buildings.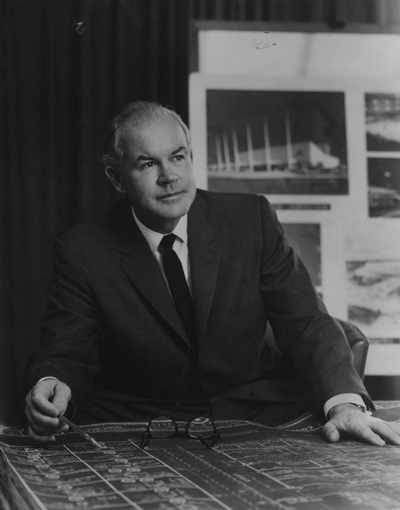 Welton Becket (1902-1969)
Born in Seattle in 1902, Becket studied architecture at the University of Washington. He and schoolmate Walter Wurdeman moved to Los Angeles in 1933. With Charles Plummer, they formed the partnership Plummer, Wurdeman and Becket, designing restaurants and shops, including the 1935 Clifton's Brookdale Cafeteria downtown. Their profile rose when their 1935 Pan Pacific Auditorium in Mid-City opened to rave reviews for its Streamline Moderne design.
After Plummer's death in 1939, the duo continued as Wurdeman and Becket. They worked largely on defense and housing projects until the end of World War II. When large-scale projects were green-lit across the country, Becket and Plummer were well positioned to receive a sizable share of the new commissions. Their first major postwar building was the 1947 Bullocks Pasadena (now Macy's), one of the first department stores to open after the war.  The same year, their General Petroleum building became the first major postwar office building to rise in downtown Los Angeles.
After Wurdeman died unexpectedly in 1949, Becket renamed the firm Welton Becket and Associates. The iconic buildings continued: Capitol Records (Hollywood, 1956), Parker Center (Civic Center, 1955), Los Angeles International Airport (with William Pereira, Charles Luckman, and Paul R. Williams; Inglewood, 1959), and The Music Center (Civic Center, 1964-67). 
The Music Center exemplifies Becket and Associates' philosophy of Total Design. The firm designed nearly every facet of the Center—from the site plan and engineering to interiors, fixtures, and typography. Becket's firm also completed master plans for Panorama City (1947) and Century City (1960), UCLA Medical Center (Westwood, 1948-70), and the civic cores of Pomona (1962-69) and the City of Orange (1963).
"Welt" oversaw the construction of more than a hundred projects before his passing in 1969. His firm continues today as Ellerbe Becket, a division of AECOM. 
For more information, see this essay by Alan Hess.
Related Places
Place

Clifton's Brookdale Cafeteria