Membership Matters
Blog
An Interview with Jeremy Cambare & Patrick Reynolds
By Andrea Joki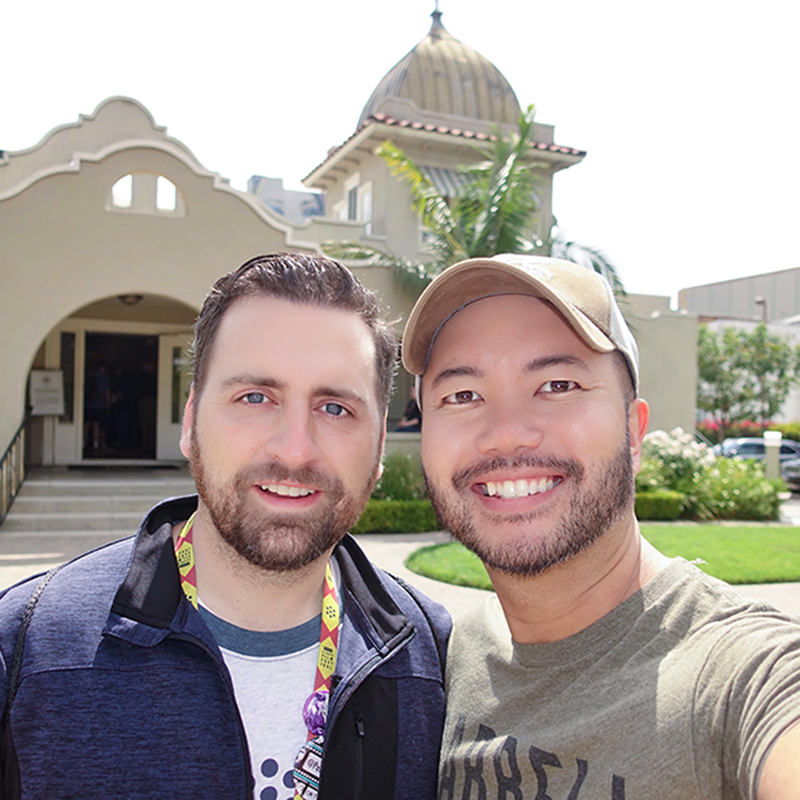 Both Jay Cambare and Patrick Reynolds are longtime residents of Southern California and love exploring places with rich history. Jay has a Bachelors of Arts in History from UCLA & Patrick has a passion for all things related to the golden age of Hollywood and historic icons of a bygone era such as Route 66. Together, they share historic SoCal landscapes & architecture through their Offroute Explorers YouTube channel. They recently joined the L.A. Conservancy and spoke with our Grants and Development Manager, Andrea Joki, about their love of L.A. history.
---
How did you learn about the L.A. Conservancy, and what compelled you to join?
We have attended a few theater tour events over the years but it wasn't until our friends George Geary & Neil Bonner, who are also members, gifted us a year-long membership a few years ago that we were really introduced to all that the organization does. We recently joined as Cornerstone members and look forward to supporting the LA Conservancy's mission.
You also attended Last Remaining Seats in June. What attracted you to that program, and what did you enjoy most about the event?
Patrick has a passion for historic movie theaters and the golden age of Hollywood. Years ago we came to see Sunset Boulevard at the Million Dollar Theater and just fell in love with the experience. This year, Auntie Mama was a treat as was Enter The Dragon. I mean…you are watching a film in the same room as someone was in 1917!! There is nothing that can replace the experience of seeing this classic Hollywood films on the big screen as they were originally intended to be exhibited.
What are some of your favorite historic places in Los Angeles and why?
Nothing matches the excitement of visiting historic Downtown Los Angeles and it is so easy to make a day of it. We love to take the train into BEAUTIFUL Union Station, stroll down Olvera Street, then hop on the subway to go visit Broadway, the Biltmore, then of course have dinner at Cole's before heading back for the evening.
What is a preservation issue or historical place that is important to you and why?
We can sit for hours reading articles and watching videos about historical places, especially places in Los Angeles. Los Angeles in the 1940s & 1950s is such a treat to see. Unfortunately, we are losing so many Googie style buildings that are being demolished for "progress". This style was created in Southern California and it is so sad that we are erasing our legacy, our history…of the pages.
What case would you make to others for joining and supporting the L.A. Conservancy?
We lose our sense of history when the buildings and landmarks are not preserved! It is so important to be able to see where this community/city came from in order to know where it should be going. There is so much rich history in Los Angeles and the surrounding region that is ready to be explored, understood and reinvigorated. You don't have to tear down a building to grow.
Our members love L.A.!
Learn about some of Etan Rosenbloom's favorite historic places in L.A. County.
Join the Conservancy!
Become a member today and help preserve L.A. County's architectural and cultural heritage.
Read More