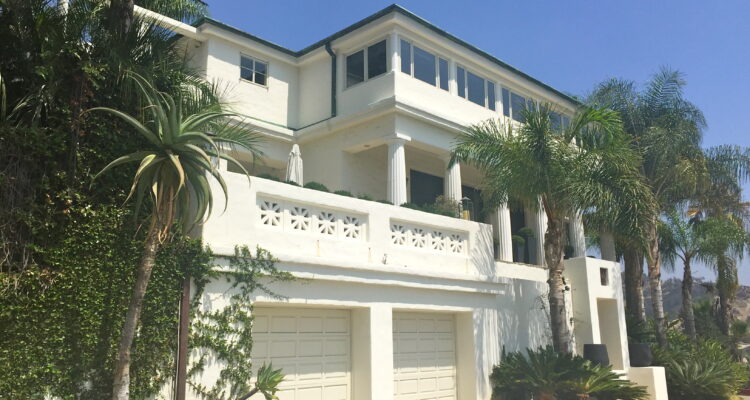 Place
Arzner-Morgan Residence
The first woman to join the Directors Guild of America, Dorothy Arzner was one of the most successful and openly queer women in early Hollywood.
For over twenty years, this Greek Revival-style residence in Los Feliz was home to Dorothy Arzner (1897-1979), a pioneering film director and one of the most prominent lesbians working in Hollywood before World War II. 
In 1919, Arzner enrolled at the University of Southern California as a medical student. She served as an ambulance driver during World War I.
Her career path changed when she was hired by William de Mille as a typist in the Paramount Pictures script department.
Arzner eventually rose through the ranks to become a highly regarded editor, yet her career stalled in the late 1920s. In 1927, she leveraged an employment offer from Harry Cohn at Columbia Pictures, threatening B. P. Shulberg (then head of Paramount) to leave the studio if he didn't let her direct. She remained with Paramount until 1932. 
In 1936, Arzner became the first woman to join the Directors Guild of America. 
Over the course of her career, she directed popular films such as First Comes Courage; Dance, Girl, Dance; The Bride Wore Red; and Honor Among Lovers. 
Her films often featured strong feminist and lesbian undertones and themes. She is credited for launching the careers of actresses including Lucille Ball, Katharine Hepburn, and Rosalind Russell. 
In 1943, she stopped working on feature-length films and began directing television and military training films. She also became a professor at UCLA's film school, where her graduate students included well-known directors such as Francis Ford Coppola.  
Arzner was very open about her sexuality and was infamous for pursuing and having affairs with the actresses in her films. She was one of the most successful and well-known openly queer women in Hollywood of her time.
For the last forty years of her life, Arzner lived with her partner, modern dance choreographer Marion Morgan. The couple resided in the Los Feliz home from 1930 to 1951. Arzner passed away in 1979.
Designed by W. C. Tanner, the Arzner-Morgan Residence was completed in 1930. The building was designated a Los Angeles Historic-Cultural Monument (HCM) in 1986.