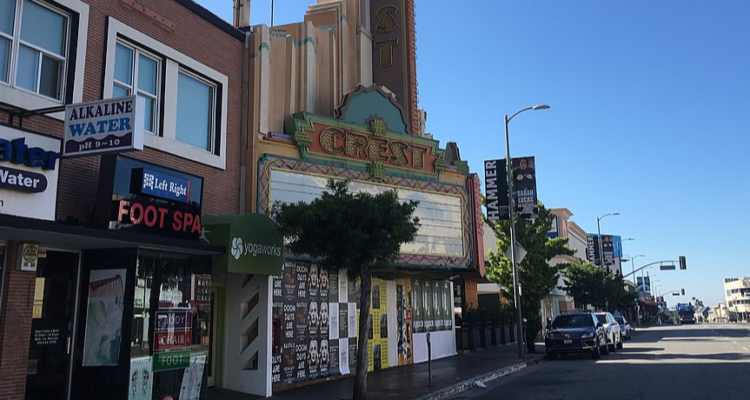 Place
Bigfoot Crest Theatre
The Westwood Theatre was built by Frances Seymour Fonda, Henry Fonda's second wife and the mother of Peter and Jane.
Opening in December 1940, the Westwood Theatre was originally contracted and built as a live theatre by Frances Seymour Fonda (Henry Fonda's second wife and the mother of Peter and Jane Fonda). During World War II, it was taken over by the independent circuit Dietrich & Feldstein and became a single-screen movie theatre.
Renamed the UCLAN Theatre in deference to its neighbor to the north, the theatre screened newsreel footage of the war for the local community. During the 1950s and '60s, the theatre was operated by independents Morris Lehrmand and Paul Raful; later, Statewide Theatres, Century Theatres, and Loews Theatres.
Management and ownership of the Crest continued to morph from independent into well-established NATO (National Association of Theatre Owners) members: General Cinema Corporation Theatres, Sterling Recreation Organization Theatres (renamed Metro Theatre) installed new seats, Dolby Stereo and 70mm projection, Cineplex-Odeon (renamed Crest) and for a time, Pacific Theatres (renamed Pacific Crest), independent operator Robert Bucksbaum (renamed Majestic Crest). Carmike Cinemas went digital in 2010 and installed a Sony4K projector capable of Real-D 3D.
The last corporation to generate revenue was the Chinese-based Bigfoot Theatres (renamed Bigfoot Crest).
The theatre underwent a complete remodeling in 1987-88 under the direction of interior specialist and set designer Joseph Musil. The themed Art Deco Revival makeover included the intricately stepped façade, the auditorium cyclorama depicting Hollywood circa 1939, an elaborate sunburst light fixture, hand-painted ceilings in the lobby, and etched-glass lobby exit doors.
On March 20, 2008, the Los Angeles Cultural Heritage Commission voted unanimously to recommend the theatre (then known as the Majestic Crest) for designation as a City of Los Angeles Historic-Cultural Monument.