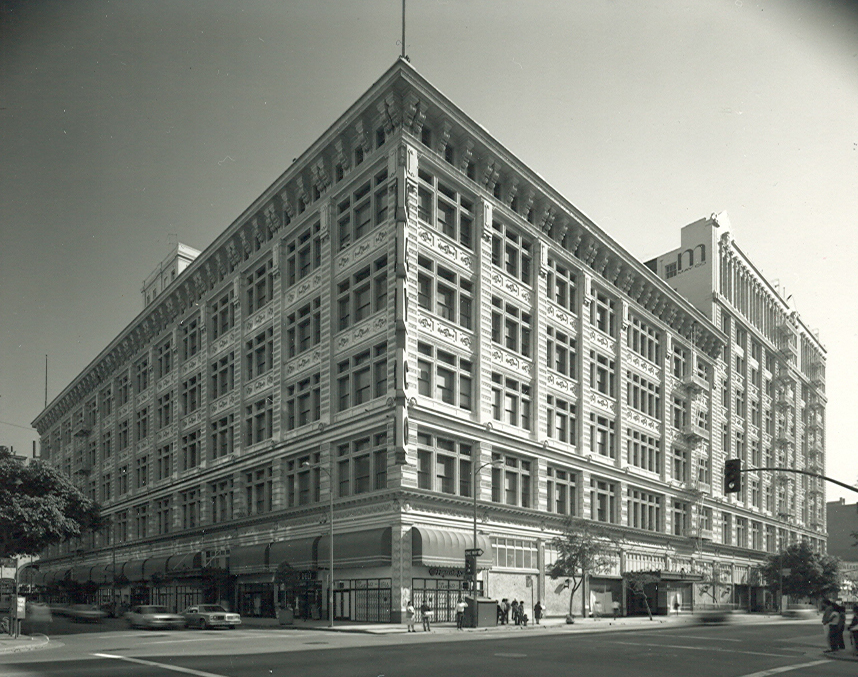 Place
Hamburgers/May Company Department Store
An enormous Beaux Arts structure erected in 1906 that once boasted it was the largest department store on the Pacific Coast.
This enormous Beaux Arts structure covers nearly half the block, and once boasted it was the largest department store on the Pacific Coast. It is clad in white glazed terra-cotta with Classical/Renaissance Revival ornamentation. Medallions on the original portion of the structure contain an "H" for Hamburger, whereas medallions on the southern portion (a 1929 addition) are blank.
Founded in 1881 as "The People's Store," A. Hamburger and Sons eventually became known as Hamburgers and then became the May Company when the May family took it over. The May Company remained in this location until the early 1990s. It was here that Sadie Marks (aka Mary Livingston) worked as a salesgirl while being courted by Jack Benny when he performed across the street at the Orpheum Theatre.
In the late 1980s the May Company vacated this location and the building became known as the Broadway Trade Center, housing garment manufacturing on the upper floors and the first floor as an indoor swap meet. 
In 2014 the building was sold, purchased by a New York-based real estate investment firm called Waterbridge Capital. Since then plans have been underway to rehabilitate the massive 1.1 million square foot structure as a venue for creative office, retail and hotel use, including a full seismic retrofit. With an estimated $200 million investment, it will be the largest federal Historic Tax Credit project in California to date.