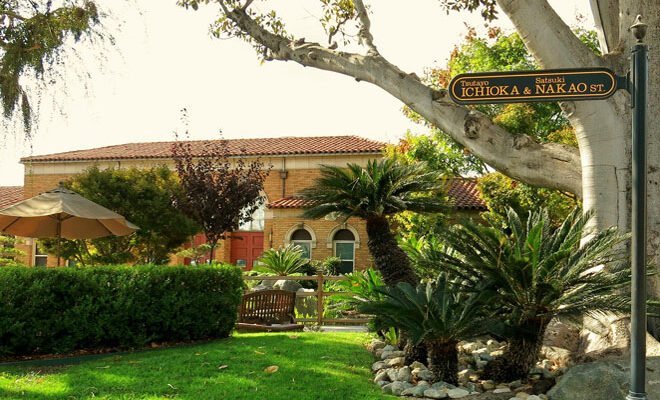 Place
Keiro Retirement Home
Located on land adjacent to the original Boyle family home, this complex operated as the Jewish Home for the Aged from 1916 to 1974.
Established in the early 1910s, the Jewish Home for the Aged was a branch of the Hebrew Sheltering Home for the Aged (alternatively, the Hebrew Sheltering Society).
The parent organization was founded in 1908 to serve recent immigrants, the homeless, and the elderly. The Jewish Home's first president, Simon Lewis, was a Polish immigrant and grocery store owner who was concerned with the increasing number of destitute elderly in the community. 
By 1916, the Jewish Home had raised enough money to purchase property in Boyle Heights, including an existing single-family residence. The facility expanded over time, including the construction of the Emil Brown Auditorium in 1930.
Designed by Max Maltzman, the Mediterranean Revival style auditorium is the only remaining historic building on the property. The facade features two Stars of David, engraved into a large stone ribbon above the central arches. Other buildings included an on-site synagogue, kosher kitchen, and a building named for Mary Pickford, a major donor. 
As the Jewish population shifted westward after World War II, the need for a fulltime facility in Boyle Heights diminished. In 1967, the Jewish Home purchased land in Reseda for a new facility in the San Fernando Valley. 
In 1974, Keiro Senior Healthcare, a group dedicated to the health needs of the Japanese American community, purchased the property in Boyle Heights from the Jewish Home. Having acquired the Japanese Hospital in 1962 and relocated it to Lincoln Heights, Keiro first expanded its practice to include senior care in the late '60s. The group was drawn to the long tradition of culturally sensitive elder care at the site and opened the Keiro Retirement Home in 1975. 
The property was badly damaged in the 1987 Whittier Narrows Earthquake, and most of the buildings were demolished and rebuilt. Today, the Emil Brown Auditorium reveals the layers of the site's history, with the original building standing as the backdrop to a Japanese koi pond and garden.