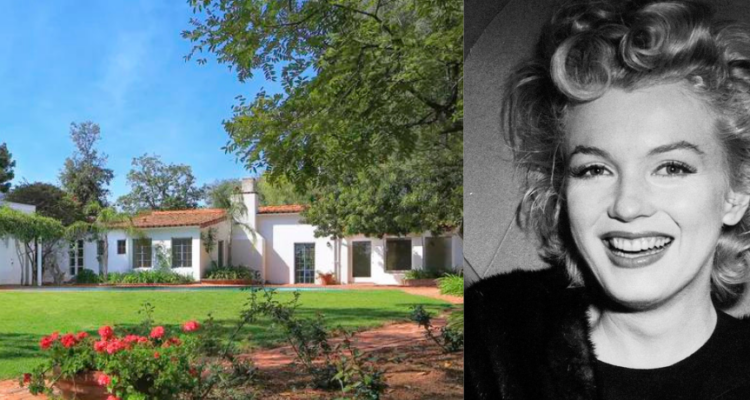 Place
Marilyn Monroe's House
Place Details
Address
12305 Fifth Helena Dr., Los Angeles, CA 90049
Decade
Property Type
Government Officials
Overview
Great news: On September 8th, Councilmember Traci Park introduced a motion to initiate a Historic-Cultural Monument (HCM) application for Marilyn Monroe's final home. This is an important first step in the process to protect the house. 
Hollywood's iconic "blonde bombshell" Marilyn Monroe left us way too soon, and now her house where she lived—and died in 1962—may also be lost if we don't act quickly. Owners have filed plans to build a new house on the site of Monroe's 1929 Spanish, hacienda-style home in Brentwood, and it appears clearance for a demolition permit may already be in place. While identified in 2013 by the City's SurveyLA program as being potentially historic, the house is currently unprotected.
If HCM designation would still allow owners to update and even expand the house if desired but ensures its essential character, and Monroe's association, is maintained.
Our Position
The Conservancy thanks Councilmember Park for initiating the Historic-Cultural Monument (HCM) process.
We will continue working with Park's office to ensure the Cultural Heritage Commission and City Council take this important house under consideration for historic protections. We believe there is a viable path to a win-win resolution.
How You Can Help
Share your thanks to Councilmember Traci Park for initiating the motion to begin the Historic-Cultural Monument (HCM) process!
There still are many steps to go before the house is fully protected. Park's motion, if approved by City Council, would  issue stop-work order and begin the process of preparing the HCM application. The HCM application must be approved by the Cultural Heritage Commission and full City Council before permanent protections take effect.
We will update this page with new action alerts as this process unfolds. Thanks to all who have expressed your support for this house.