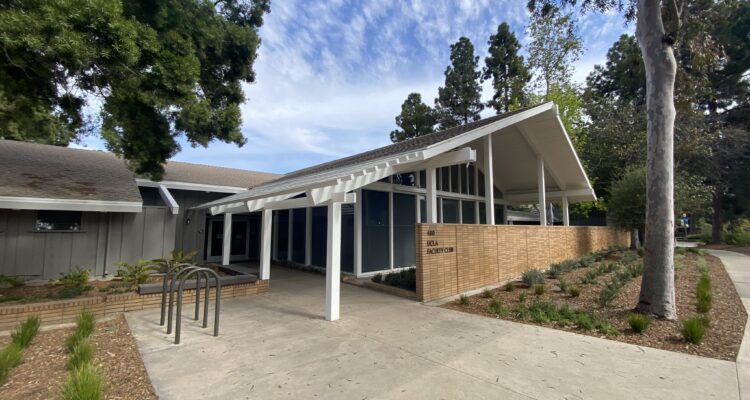 Place
UCLA Faculty Center
The unique ranch-style residential architecture of the UCLA Faculty Center provides a welcoming environment for faculty lunches and convening.
Saved
Following years of uncertainty and advocacy by the Conservancy, UCLA is now embracing the preservation of this Modernist building by reinvesting in its systems and overall maintenance.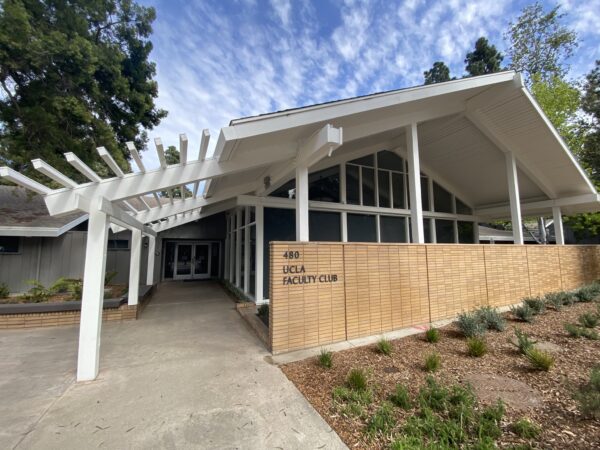 Overview
Built in 1959, the University of California Los Angeles (UCLA) is a distinctive and rare example of an institutional building in the Modern Ranch style. UCLA's plans to demolish the building to make way for a Residential Conference Center spurred opposition from faculty members, Westwood residents, and the Los Angeles Conservancy.
After a decade of uncertainty over the building's future, UCLA has now embraced the preservation of this unique Modernist building by entering a formal Affiliation Agreement with the Faculty Club and investing $10 million towards seismic and infrastructure renovation. We applaud all who helped make this happen, including the Faculty Club and UCLA leadership.
About This Place
About This Place
The Faculty Center was designed by the architectural firm of Austin, Field and Fry. The firm was responsible for many civic buildings throughout Los Angeles, including serving as part of the team who designed the 1958 Los Angeles County Courthouse.
The design of the Faculty Center is unusual for its ranch-style residential architecture, particularly in a university and public institution setting. The post-and-beam construction, large floor-to-ceiling windows, and indoor-outdoor spaces create a casual, welcoming environment conducive to faculty lunches and convening.
Our Position
For years, the Conservancy has supported faculty members and Westwood residents in advocating for the preservation of the Faculty Center. We responded to the original proposal to demolish the Faculty Center, emphasizing the need to evaluate the Faculty Center as a historic resource and examine preservation alternatives.
The Conservancy also nominated the UCLA Faculty Center for listing in the California Register of Historical Resources. Despite support from the community and with strong opposition to the nomination from the UCLA administration, the California State Historical Resources Commission rejected the Conservancy's nomination. We disagree and remain disappointed with this decision.
The Conservancy's California Register nomination for the property received support from the Los Angeles Cultural Heritage Commission and a positive staff recommendation from the California State Office of Historic Preservation, which recommended listing the UCLA Faculty Center in the California Register.
UCLA and the Conservancy both submitted reports conducted by external consultants, as a part of the State Historical Resources Commission's review process. The two entities provided conflicting reports regarding the significance of the Faculty Center and whether its subsequent renovations throughout the years significantly altered the building. The Commission deemed that the building was not a good example of Mid-Century Modern ranch-style architecture.