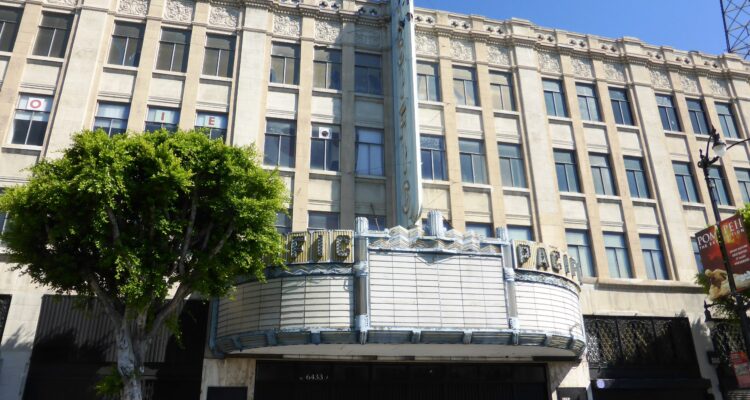 Place
Warner Pacific Theatre
Opened on April 26, 1928, the Warner Hollywood Theatre is the largest of four designed by architect G. Albert Lansburgh. When first built, the theatre had a seating capacity of over 2700. 
Warner Hollywood Theatre is part of a larger structure, which contains ground floor retail space and three floors of office space. The office space was used as home to the Warner Bros. radio station, KFWB and also contained the headquarters of Warner Bros. Theatres. 
Built when there had been few Vitaphone talking pictures produced, the theatre experienced great success despite the decline in the economy. The economic vitality of the theatre continued a few years into the depression.
By 1953, the theatre was in need of renovation. It was converted into a 3-strip cinerama and seating was reduced to 1500 by leaving the upper balcony unused. 
Warner Bros. sold the property to Pacific Theatres who changed the name to Hollywood Pacific Theatre in 1968. 
After sustaining damage in the 80s during the construction of the red line subway and structural damage from the 1994 Northridge earthquake, the theatre closed in 1994.
Since the closing of the theatre, It has been used by the Los Angeles Conservancy and others for occasional film screenings. Until June 2013, the theatre was leased to a church for their Sunday services. 
Recent talk of redevelopment and a growing concern that demolition will become an option leaves the future of the Hollywood Pacific Theatre uncertain.