Architect
Eric Owen Moss
Eric Owen Moss is widely recognized for his visionary designs around the world.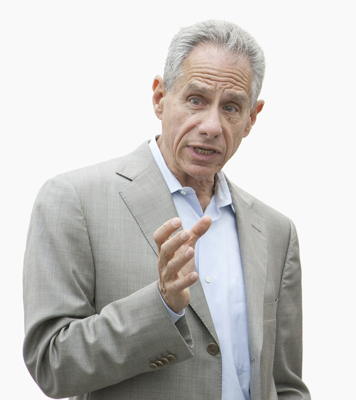 Eric Owen Moss, FAIA (born 1943)
Eric Owen Moss is widely recognized for his visionary designs around the world. Yet arguably his most prominent work is concentrated in Culver City. In fact, many people credit Moss and his clients, developers Frederick and Laurie Samitaur Smith, with the city's revitalization.  
It began in 1986 with the redevelopment of an abandoned and unsavory warehouse section of Culver City called the Hayden Tract, owned by the Samitaur Smiths. Seeing architecture as an art form, the couple aspired to transform the derelict spaces into offices that would attract creative-minded companies.
Moss' renovations yielded structures with seemingly incoherent shapes and jarring combinations of proportion and materials, yet they all harmonize to produce a new interpretation of the urban workspace. Today, the Hayden Tract is an architectural wonderland occupied by some of the most artistic companies in the world.
Born in Los Angeles in 1943, Moss witnessed firsthand the postwar housing boom and Modern movement in Southern California. He received his undergraduate degree from UCLA and master's degrees in architecture from both Harvard and UC Berkeley.  
Regarded as deconstructivist, Moss' residential and commercial designs essentially discard Modernist concepts and specific historical references. His structures are striking and distinctive sculptures of metal, cement, and glass that almost defy categorization.
He once lived in a 1948 Case Study House designed by James H. Caughey. In keeping with his architectural philosophy, Moss remodeled it in his own playful Postmodern interpretation. 
Located in Culver City, the firm of Eric Owen Moss Architects was established in 1973 and has received more than 100 design awards. Moss has held teaching positions at major universities around the world including Harvard, Yale, Columbia, University of Applied Arts in Vienna, and the Royal Academy in Copenhagen. 
A longtime professor at the Southern California Institute of Architecture (SCI-Arc), he has served as its director since 2003. Moss is internationally regarded as a luminary in Postmodern and contemporary architecture.
Related Places
Place

Lindblade Tower and Paramount Laundry Building

Place

6672-6674 Vista Del Mar Duplex