Architect
Richard Dorman
Richard Dorman helped shape the mid-century modern landscape of Los Angeles, from homes for wealthy clients to commercial and industrial buildings.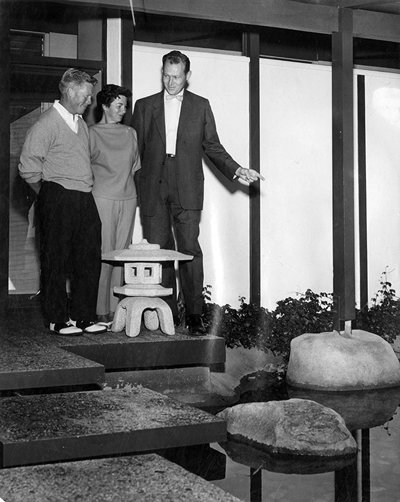 Richard Dorman, FAIA (1922-2010)
Dorman was born in 1922 and raised in Los Angeles. After flying thirty-five missions over the Pacific as a World War II B24 pilot, Dorman used the GI Bill to attend the USC School of Architecture. Upon graduation in 1951, he was then invited to join the design department at Welton Becket and Associates. He served as assistant chief designer until 1956, when he left to start his own firm.
Dorman designed a number of homes in Trousdale Estates and the 1961 Irving Stone Residence in Beverly Hills, which was demolished in 2008. Other local works include the Ivory Tower Restaurant in Santa Monica (demolished), which won an AIA Honor Award in 1961; the Airport Office Building (1961) in Westchester; Los Angeles International Design Center (1962) at 8899 Beverly Boulevard; Malibu United Methodist Church (1965); and the Beverly Hills National Bank Building (1965) in Brentwood, which was featured in Architectural Record in 1967.
In 1962, Dorman appeared on the cover of "The Take-Over Generation," a LIFE magazine special issue. He was 39 years old, was president of two firms, had nearly sixty projects in the works, and had won ten national awards. "Nothing moves fast enough for Richard L. Dorman, Los Angeles architect and designer," read his profile, which quoted Dorman as saying, "I want to upgrade everything."
Dorman moved to Santa Fe in 1975, where he continued to practice architecture while pursuing a great interest in narrow gauge trains and railroads; he wrote thirteen books on the subject. He died in 2010 at the age of 87. His obituary in the Santa Fe New Mexican called him "a man passionate about family, friends, church, architecture, trains, and life."
Related Places
Place

Los Angeles International Design Center

Place

Stone Canyon Residence
Place

Los Angeles International Design Center

Place

Stone Canyon Residence