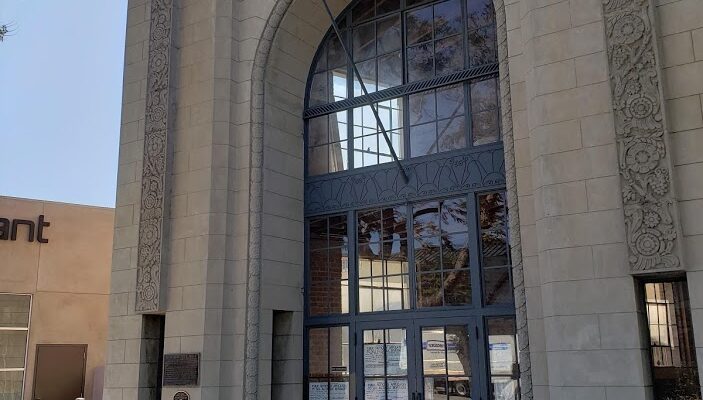 Place
Citizen Public Market
The building's exterior is noted for its blending of Beaux Arts and Art Deco elements. Currently, the former publishing building is being adapted for a new use as a market hall with at least 10 different food stalls.
Most likely you've seen this before: an old movie showing a businessman reading a newspaper headline, then slapping it down on the boardroom table and announcing to his colleagues, "Did you see this? We're ruined, I tell you – ruined!" The camera goes in for a close-up of the shocking headline, accompanied by a scandalous photo. There's a good chance that "dummy newspaper" was printed here at the Citizen Publishing Company. Working with the nearby studios of MGM, Selznick, RKO and others, they printed over 500 such newspapers a year, many in foreign languages, and often using vintage fonts depicting the historic events portrayed in the film.
Eugene Donovan, the building's owner, published a "real" newspaper, too: The Citizen. This highly-respected paper, which printed its first issue on December 1, 1929, was soon the largest and most influential paper in Culver City. The Citizen championed the city, pushing for improved roads and bus transportation, better street lighting, more efficient fire and police protection, a stronger Chamber of Commerce, and inevitably, more credit for the city's role in the burgeoning film industry.
In fact, in 1934 the newspaper held a competition for the re-naming of the city – finding a name more fitting its film industry roots. Names submitted included "Cinema City," and "Filmville." Some even believed the city should usurp the name "Hollywood" as that city wasn't a city at all – it had long since annexed itself to Los Angeles. Obviously, the Culver City moniker stuck, but "The Heart of Screenland" (a tag line which continues today), went on to produce such classics as Gone with the Wind, The Wizard of Oz, Citizen Kane, Singin' in the Rain, Cat on a Hot Tin Roof, E.T. – the Extra-Terrestrial, just about everything featuring Laurel and Hardy, and the Our Gang Comedy series, too.
The building's exterior is noted for its blending of Beaux Arts and Art Deco elements. A massive arched entryway suggests the former; vertical piers, "tiered" setbacks, and restrained ornamentation suggest the latter. Within the 6,600-square foot building was a first-floor reception room and to the rear, the pressroom and bindery. A staircase (whose decorative wrought iron railing remains to this day) led upstairs to Donovan's publishing offices.
A fine example of adaptive reuse, the current owners have renamed the site Citizen Public Market. It will be home to a new market hall featuring at least 10 different food stalls offering up a broad list of dining options for its patrons. If you're familiar with downtown L.A.'s Grand Central Market, then you'll recognize this venue's model: both were developed by RM/d properties.