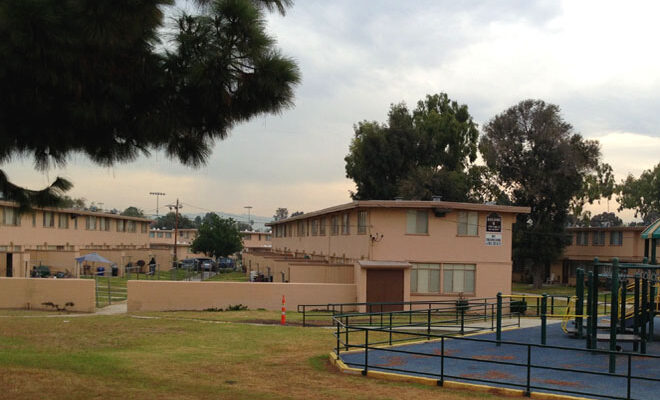 Place
Mar Vista Gardens
Mar Vista Gardens was among the best examples of quality, community-centric design in public housing.
Completed in 1954, Mar Vista Gardens is one of a handful of publicly owned garden apartments built in Los Angeles in the wake of the Federal Housing Act of 1949.
Due to new federal guidelines concerning unit count and cost, these complexes typically featured less common green space and community facilities than their earlier counterparts.
When it opened, Mar Vista Gardens was considered the highest-quality public housing project in Los Angeles.
Designed by architect Albert Criz, who would later work on the West Los Angeles Civic Center, the 43-acre site includes 601 apartment units in 62 buildings, along with a gymnasium, community center, and athletic fields. The two-story residential buildings are separated by open yard areas, allowing for small tenant gardens. The site abuts Ballona Creek, a nine-mile waterway that meets the Santa Monica Bay.
Mar Vista Gardens is the westernmost property operated by the Housing Authority of the City of Los Angeles (HACLA). Plans to construct the complex stalled in the early 1950s when City officials discovered that a strip of land running through the project site was actually County territory.
The City of Los Angeles annexed the 6.44-acre strip in 1952, and the project proceeded as a "slum clearance" measure. Though constructed by HACLA, Mar Vista Gardens has a Culver City mailing address today.
Prior to the construction of Mar Vista Gardens, the site was an abandoned celery field, adjacent to two aircraft plants, with only a handful of nearby residences.
Looking to contact the Mar Vista Gardens?
The Conservancy does not own or operate the Mar Vista Gardens. For any requests, please contact the Mar Vista Gardens directly at (310) 398-5763.