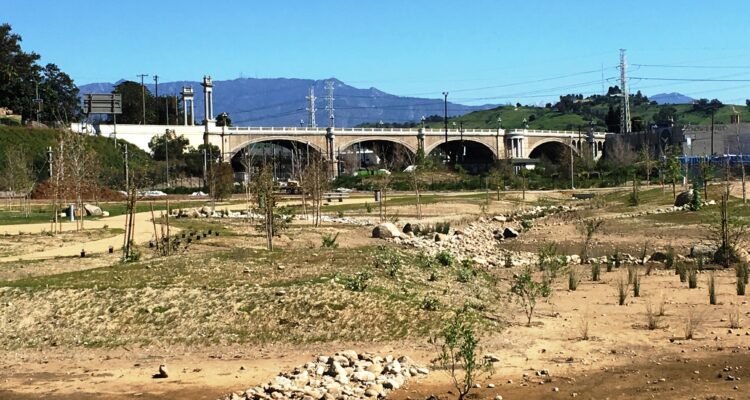 Place
North Broadway Bridge
Completed in 1911, the North Broadway Bridge represents Los Angeles' aspirations as a metropolis at the turn of the century.
Originally named the Buena Vista Viaduct, the North Broadway Bridge was the first major monumental Beaux Arts bridge constructed by the City of Los Angeles. When completed in 1911, it was the longest and widest concrete arch bridge in California, spanning 968 feet in total. 
The North Broadway Bridge is one of more than two dozen historic bridges spanning the Los Angeles River between the San Fernando Valley and Long Beach. Its design is a reflection of the City Beautiful Movement, which sought to beautify urban centers nationwide at the dawn of the twentieth century. 
The deck features a sculpted concrete railing that runs between twelve rounded viewing balconies. Two pairs of fluted Ionic columns on high square pedestals topped by a cornice and balustrade are located at each entrance. 
The North Broadway Bridge was designed by Homer Hamlin and Alfred P. Rosenheim. Rosenheim also designed the 1907 Hamburgers/May Company Department Store (now Broadway Trade Building) and the Hellman Building (now Banco Popular de Puerto Rico), both prominent landmarks in downtown. 
In 2008, the North Broadway Bridge was designated Los Angeles Historic-Cultural Monument #907. The bridge spans the eastern boundary of the Los Angeles State Historic Park, where it provides a sheltered space for film screenings, concerts, and other special events.