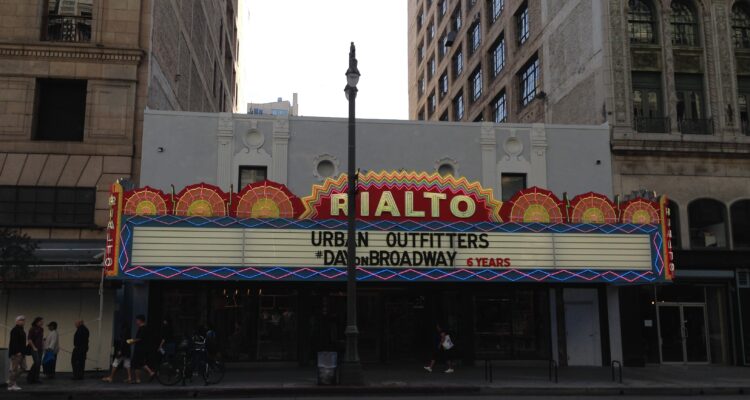 Place
Rialto Theatre
Quinn's Rialto Theatre opened on May 21, 1917. The Rialto was one of the first theatres to have stadium style seating and features the longest neon marquee in the Broadway National Register Historic Theatre District.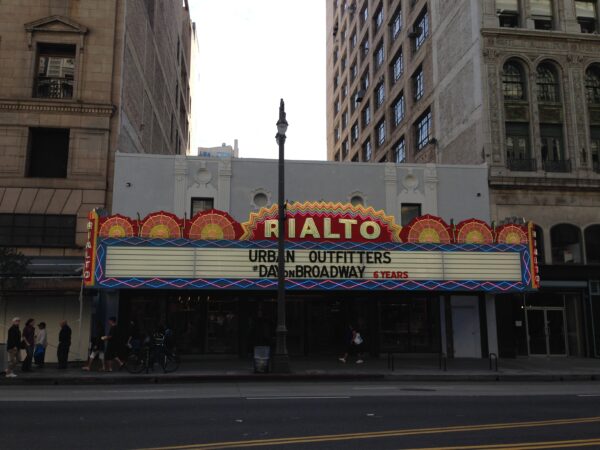 Quinn's Rialto opened on May 21, 1917 with a screening of the silent film The Garden of Allah accompanied by the Quinn Symphony Orchestra under the direction of composer Joseph Carl Breil. Two years later, Sid Grauman took over the theatre, remodeled it, renamed it Grauman's Rialto, and operated it until 1924.
The Rialto was one of the earliest theatres to have stadium-style seating with no balcony.
The exterior was originally designed by architect Oliver P. Dennis as a Greek Revival structure with three sets of arched windows and a classic pediment atop its facade.
A remodel in 1923 by theatre architect William Lee Woollett completely changed the look of the building. It was given a modified Georgian façade ornamented only by two rectangular windows flanked by fluted pilasters and two small round windows.
Inside, the theatre's proscenium was framed with huge columns, and the side walls were given the look of ancient stonework. The plaster ceiling beams were painted to resemble wood.
In the 1930s, the Rialto got a new marquee with a spectacular Art Deco neon display, one of the longest marquees on Broadway.
The theatre was remodeled several times over the years to accomodate new technologies and changing fashion. Unfortunately, almost none of the interior elements remain – the plasterwork was removed, and the decorative painting and stencil work were painted over. The auditorium was eventually gutted and the lobby area was turned into retail space.
Fortunately, the Rialto's dramatic marquee remains and was declared City of Los Angeles Historic-Cultural Monument #472 in 1989.
In 2013, Urban Outfitters announced plans to rehabilitate the Rialto Theatre as part of Broadway's ongoing revitalization.