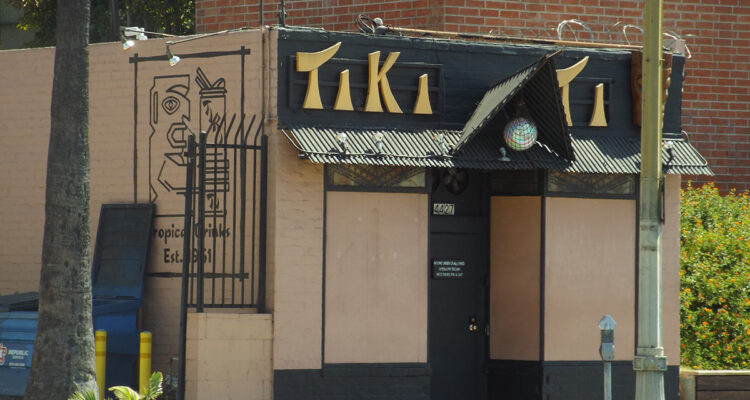 Place
Tiki-Ti
Filipino immigrant Ray Buhen opened this iconic tiki bar on Sunset Boulevard in 1961; the Buhen family continues to operate the bar today.
After twenty years of bartending in Los Angeles, Ray Buhen opened his own Polynesian-themed tiki bar, Tiki-Ti, on Sunset Boulevard in 1961. The tiny twelve-seat bar occupies a former violin repair shop owned by Buhen's father-in-law. Few changes to the exterior have been made since the bar's opening.
Step inside and find a tropical paradise replete with fishing floats, puffer-fish, and tikis. Placards signed and dated by long-time regulars cover the walls and ceiling. The friendly atmosphere and the Tiki-Ti menu, featuring over ninety drinks, have built a loyal following over the years.  
When Tiki-Ti first opened, Buhen's clientele comprised mostly of employees from the nearby Allied Artists movie studio. When the studio closed in 1965, Buhen stopped serving beer and only served the exotic cocktails that he was known for. Generations of celebrities frequented the bar, including Marlon Brando, Burt Reynolds, Huell Howser, and Nicolas Cage.  
Born in the Philippines in 1909, Buhen immigrated to Los Angeles in 1930 at the height of the Great Depression. He found work at the Hotel Figueroa and Beverly Hills Hotel before attending the first bartending school in Los Angeles. He was one of four Filipino bartenders who worked at the original Don the Beachcomber, when it opened in Hollywood at the end of Prohibition. There they created the secret syrups used today as the foundation of tiki cocktails.
Buhen, who passed away in 1999, bartended at the Tiki-Ti until he was 88. On Wednesday nights at 8:30 p.m., son Mike Sr. rings a bell, raises a glass, and leads the packed house in a toast: "To my dad, the Master Ninja. Thanks to him for the Tiki-Ti, the last of the Mohicans, the original in tropical drinks." Along with Mike Sr., Buhen's grandsons, Mike Jr. and Mark, continue to run the business.