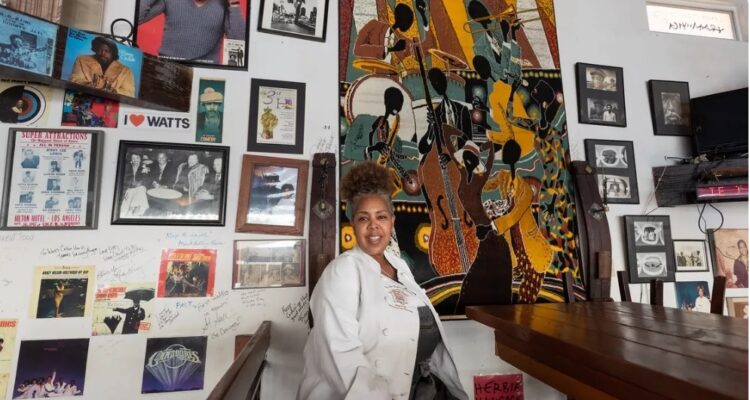 Place
Watts Coffee House
Beloved Watts legacy business nourishes neighbors with soul food and history.
Watts Coffee House currently operates out of the Watts Happening Cultural Center (also known as the Mafundi Building and Robert Pitts Westminster Neighborhood Center) at 103rd Street and Wilmington Avenue, one block south of the celebrated Watts Towers and three miles from the traffic stop that sparked the Watts Rebellion in 1965. This beloved legacy business is closely linked to the area's cultural and political activism.
The restaurant's origins date back to 1965 when neighborhood youth converted an abandoned building located nearby at 1802 103rd Street into the Watts Happening Coffee House, a community arts center. Following the Watts Rebellion, the Watts Happening Coffee House was a place for Black artists, activists, and residents to exchange ideas and make art in service of the larger project of uplifting Black Angelenos. Watts Happening Coffee House hosted the Watts Writers Workshop, the Watts Prophets, and other cultural and political activists. The once smoke-filled rooms brimmed with avant-garde readings, showings, and performances, such as a 1967 all-Black performance of Oedipus Rex set against an Afro-jazz score. 
By 1967, there was a move to close the Watts Happening Coffee House due to public health concerns. Congressmember Augustus F. Hawkins, California's first Black congressmember, helped secure monies from the Department of Housing and Urban Affairs to help fund the construction of a new community center at the current location.  
In 1995, Watts Coffee House owner and chef Desiree Edwards was offered space in the community center to run her new catering business. The offer came from her lifelong mentor Harold Hambrick and with two conditions: the business will support the neighborhood and be named the Watts Coffee House.
Edwards opened the Watts Coffee House as a soul food restaurant in 1997. Edwards, a Los Angeles native, is a third-generation entrepreneur. She explains that from a young age, she always loved to cook. However, Edwards initially worked in banks and customer service until her love of cooking led her to a career in catering. Edwards credits her mother and grandmother for demonstrating that community support and kindness matter – which she considers her real work.
With the Watts Coffee House, Edwards holds space for history, food, and community. The walls display 1960s memorabilia, banners, photographs, and posters of Black actors and musicians alongside radical intellectuals. Edwards notes, "A meal is a hug sometimes. That's why I'm happy being on this corner [of 103rd Street] helping people." But she understands that food alone can't sustain community. Recognizing the role that the Watts Coffee House has in building community, people often ask Edwards if there's anything they can drop off to help. Edwards has donated shoes and backpacks to kids when the school year starts and up to ten pounds of new clothes and turkeys to community members during the holidays. The Watts Coffee House is at once a living museum and a restaurant, but above all a space for neighbors to come together.
Special thanks to Cynthia Sanchez for her contributions to this page.