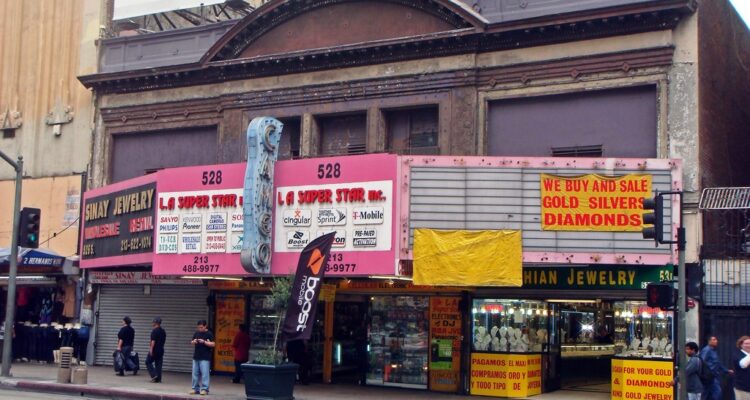 Place
Cameo Theatre
Opening in 1910 as Clune's Broadway Theatre to screen first-run films, the 900-seat theatre was one of the country's first theatres built to show movies. The modest Neo-classical design was considered quite elegant for a movie theatre at the time.
Opening in October 1910 to screen first-run films, the upscale, 900-seat Clune's Broadway Theatre was one of the earliest and best-appointed theatres on the thoroughfare – and one of the country's first theatres dedicated solely to the projection of motion pictures.
The theatre took its name from its builder, W. H. (Billy) Clune, a prominent exhibitor and filmmaker of the early twentieth century. Clune's exterior was designed in a simple Classical Revival style and featured a prominent electric rooftop clock and sign.
The interior decor also reflected classical detailing with decorative pilasters crowned capitals with a stylized "C" in the center. The theatre originally seated 900 people and had space for a nine- to sixteen-piece orchestra to accompany silent movies.
In 1924, the theatre was remodeled and renamed the Cameo by H. L. Gumbiner, who later built the nearby Tower and Los Angeles Theatres. The Cameo had many owners over the ensuing years, including Fox West Coast Theatres, Pacific Theatres, and finally Metropolitan Theatres.
As the Broadway Theatre District declined, so did the Cameo. When the theatre ultimately closed in 1991, it was the city's longest running, continually operating theatre.
Today, the Cameo Theatre is a retail store with electronics for sale in its former foyer and lobby. Storage rooms occupy the former auditorium, which retains its original raked (sloped) floor, decorative walls, ceiling, and screen.