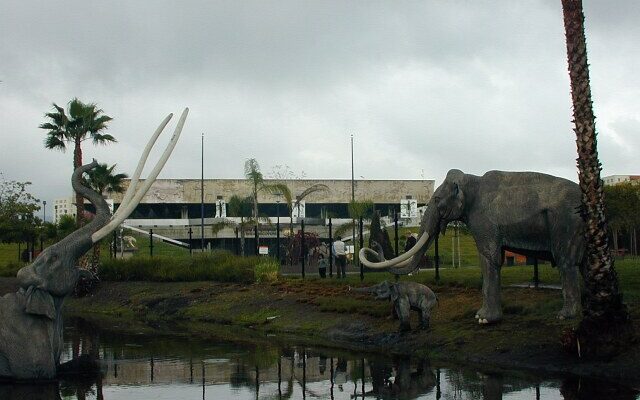 Place
George C. Page Museum (La Brea Tar Pits)
The George C. Page Museum has the rare architectual distinction of housing and exhibiting paleontological discoveries from the very site on which it sits--the La Brea Tar Pits.
The George C. Page Museum represents architectural design of a rare and very appropriate specificity, as it is dedicated to housing and exhibiting paleontological discoveries from the very site on which it sits. As discovered by early occupants of Rancho La Brea, asphalt deposits underlie the whole Hancock Park area and contain the fossils of thousands of Ice Age animals that got trapped in the sticky pools. The Page Museum celebrates the ongoing excavation and interpretation of this incredibly rich site.
Philanthropist George C. Page, a self-made millionaire who started out with a citrus packing and shipping business, contributed the funds to construct the museum and was heavily involved in its design and construction. He hired architects Willis Fagan and Frank Thornton to design a user-friendly building that not only fit into the open green space of Hancock Park, but met the engineering challenge of building on a site full of tar sands and constant upwelling of methane gas. Fagan and Thornton met the challenge with a design that combines elements of Brutalism with Organic Modernism.
The 1977 building nestles in the center of an artificial mound that resembles the ruins of a Mayan temple, and visitors follow a ramp well below the ground surface to enter.
A fiberglass frieze depicting Pleistocene mammals runs around the top of the building, held up by a black aluminum web called the "space frame." Inside, the space frame hovers over a central atrium full of tropical plants and water features, which is surrounded by the circular interior exhibit space. Display windows allow visitors to watch paleontologists at work in their laboratory, and reassembled skeletons hang from the ceiling. Like the fossils it celebrates, the George C. Page Museum feels like an amazing discovery of its own, buried below the surface of the earth.