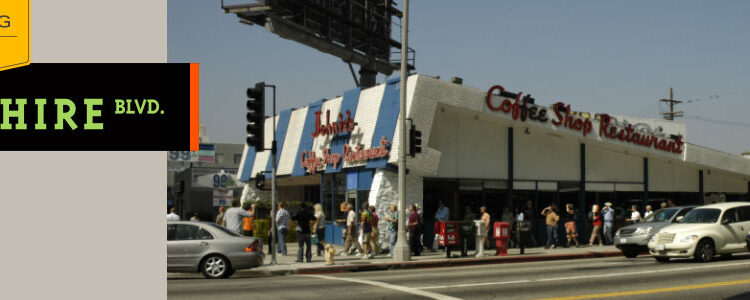 About Curating the City: Wilshire Blvd.
Made possible by a grant from the Getty Foundation, the first installment of Curating the City took place in 2005. The program focused on the architecture and history of Wilshire Boulevard, the symbolic spine of Los Angeles whose story reflects that of the city itself.
Curating the City: Wilshire Blvd. kicked off on October 2, 2005 with an architectural tour of six historic sites along the boulevard. It continued through November 2005 with a range of related events presented in conjunction with partnering organizations along Wilshire. Events ranged from a family art workshop, to panel discussions, to a photo exhibit, spoken word event, and even a fashion show. See the photo gallery below for more information.
The program produced permanent resources such as a Kids' Guide to Wilshire, a trilingual booklet (in English, Spanish, and Korean), teaching materials, and an award-winning website at curatingthecity.org. The website reached the end of its life span in 2014, and we moved the content to this dedicated section (microsite) of the Conservancy's website. 
We hope this microsite continues the program's innovative approach to place-based education, helping people experience the historic places of Wilshire Boulevard and share the personal stories that give these sites meaning.
Special Thanks
For the migration of the content from curatingthecity.org to laconservancy.org in 2014, we thank David Deng for his invaluable help, Hunter Kerhart for his amazing photos, and Hello Design and ThinkShout for their technical assistance.
For the original incarnation of the Curating the City: Wilshire Blvd. website (curatingthecity.org, 2005-2014), we thank Sally Beddow, Adriene Biondo, Jacques Garnier, Cathy Gudis, Hello Design, the Los Angeles Library Photo Collection,  J. Eric Lynxwiler,  Jim McHugh, Jane McNamara, Daniel Paul, Kevin Roderick, Tim Street-Porter, Larry Underhill, Liliana Vasquez, Marcello Vavala, Marc Wanamaker of Bison Archives, and Tom Zimmerman of Tom Zimmerman Photography.