Historic Sites for Special Events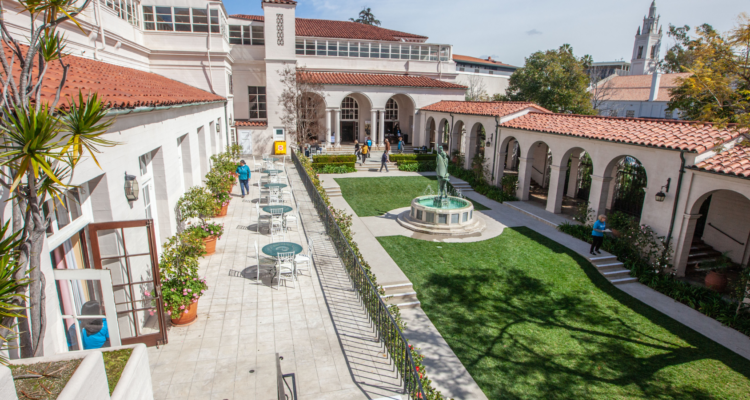 Historic Sites for Special Events
We've listed a few popular event locations below; contact them directly for more information.
Some of these (and other) event sites are also featured on our Historic Places in Los Angeles map; see our list of historic places available for special events.
We will add to this list over time. If you'd like to suggest a site for the list, please contact us at info@laconservancy.org or (213) 623-2489.
Adamson House and Malibu Lagoon Museum, Malibu 
Designed by Stiles O. Clements, the Moorish Spanish Colonial Revival Adamson Home was built in 1929 for owners of Malibu Potteries. Malibu tile is prominently displayed throughout the home and patio areas.
Adobe De Palomares, Pomona
This Ranch-style adobe was built by Don Ignacio Palomares around 1850. It was restored in 1939 and is owned by the City of Pomona.
Alexandria Hotel, Downtown Los Angeles
Constructed in 1906 by prolific architect John Parkinson, the Alexandria Hotel is an elegant Beaux Arts-style building at the corner of 5th and Spring Streets.
Angel's Gate Park, Palos Verdes  
This 64-acre public park offers spectacular views of the coastline and Santa Catalina Island. The site features a pavilion containing the Korean Bell of Friendship, situated on a bluff with a 180-degree view of Palos Verdes and the Pacific Ocean.
Annenberg Community Beach House, Santa Monica 
The Annenberg Community Beach House at Santa Monica State Beach is a five-acre public facility combining elements of the historic Marion Davies Estate with contemporary structures and open spaces designed by Frederick Fisher and Partners to create a versatile beachfront destination to consider for your next production.
Avalon Hollywood, Hollywood
The Avalon (formerly the Palace) was built in 1927 in the Spanish Colonial Revival style. From the Beatles' first West Coast performance in 1964 to ABC's hit Hollywood Palace hosted by Jerry Lewis and Sasha's first West Coast DJ residency, the theatre at Hollywood & Vine has been a show-business epicenter since it opened.
Averill Park, San Pedro  
The park has a gentle waterfall, a meandering stream, and ponds with wild ducks and geese. Dramatic hills with lush greenery and a gazebo set on a hill top offer spectacular views of the city and harbor below.
Aztec Hotel, Monrovia 
The historic Aztec Hotel was constructed in 1925 in the foothills of Los Angeles along original U.S. Route 66. This ornately designed hotel with Mayan and Aztec architecture is situated in downtown Monrovia. It was restored and listed in the National Register of Historic Places in 2003.
Banning House Lodge, Catalina  
Located at the west end of the island, the Banning House Lodge was built in 1910 as the summer home for the pioneering Banning brothers, who owned Santa Catalina Island. Now a charming, Craftsman-style bed and breakfast, the Banning House Lodge offers sweeping views of the Isthmus of Catalina and Catalina Harbor.
Blinn House, Pasadena  
Built in 1906, The Blinn House has been the meeting place for membership-based organizations since the 1940s.  Pasadena Heritage continues this legacy by offering the home for public use. It stands unique in Pasadena and California as the only known Maher residential structure built west of the Mississippi River.
Calamigos Ranch, Malibu  
The 130-acre ranch above Malibu was established in 1947 by Grant and Helen Walter Gerson. Originally it was used primarily as a children's camp. Their son Glen and his family have continued the vision set in motion from his parents and grandparents for over 60 years.
Carousel on the Santa Monica Pier, Santa Monica
The Looff Hippodrome, with its charming carousel, is an architectural gem. Built in 1916, the hippodrome was the last work of master carousel builder and amusement pioneer Charles I. D. Looff. The current merry-go-round that has been in place since 1954 is notable for its hand-carved wooden horses, fanciful painted upper rim, and 1,100 electric lights.
Casa Adobe De San Rafael, Glendale  
This adobe home was built in 1871 for Thomas Sanchez, the first sheriff of Los Angeles County. Today, the adobe includes a Monterey-style corridor (covered porch), beautiful sunken garden, brick patio, sandy brown tile roof, and long narrow front windows adorned with teal shutters. Interior furnishings are from the nineteenth century.
Castle Green, Pasadena  
Built in 1897, the Castle is listed in the National Register of Historic Places and the National Archives of Significant Interiors. It is an imposing, seven-story Moorish Colonial and Spanish-style building sitting next to Central Park in Old Pasadena at Raymond Avenue and Green Street. The inside public rooms have been restored to much of the look of 1898. The grand lobby with its mosaic tile floor and marble stairway are breathtaking. And, of course, like any great hotel, there is a Palm Terrace Ballroom.
Catalina Casino Theatre and Ballroom, Catalina  
The Catalina Casino has been the focal point of Santa Catalina Island entertainment and culture since it opened on May 29, 1929. Restored to its original condition, the Art Deco circular icon is a stunning reminder of Catalina's glorious past. The massive twelve-story building is divided into a spectacular grand ballroom and movie theatre.
The Catalina Visitor's Country Club, Catalina  
Poised on a knoll overlooking romantic Avalon, the landmark Catalina Visitors Country Club is a striking example of Early California Revival architecture, with distressed cream-colored walls, deep green trim, and a Spanish-tile roof. Inside, the club features an eclectic mix of Spanish Colonial design and sports memorabilia.
Central Park and Penn Park, Whittier  
Whittier has a number of scenic public parks, notably Central and Penn Parks. For more information and a listing of all Whittier parks, please visit the City of Whittier website.
Clark Estate, Santa Fe Springs  
The Clarke Estate was built as the home of Chauncey and Marie Rankin Clarke in 1919 by architect Irving Gill. Using the feeling of Mediterranean and Mission Revival architecture, Gill built this elegant house in 60 acres of citrus groves. The home is built around a central courtyard edged with Tuscan-style columns and graceful arches.
Culver Hotel, Culver City
Built in 1924 by Culver City founder Harry H. Culver, the historic Culver Hotel is where classic meets contemporary and vintage style is reimagined. Filled with old-world glamour, artful design and European ambiance the six-story Renaissance Revival building stands proudly in the center of Downtown Culver City. Whether you are enjoying dinner and jazz, hosting an event, or simply making one of the chic guest-rooms your stylish pied-à-terre, the Culver Hotel will make your experience memorable and inspiring. The Culver Hotel is listed in the National Register of Historic Places.
Descanso Gardens, La Cañada  
E. Manchester Boddy, publisher and former owner of the Los Angeles Daily News, purchased the land that is now Descanso Gardens in 1937. In 1953, Boddy sold his estate — including his house — to Los Angeles County. This secluded, lush, dense garden northwest of Altadena has over 1,000,000 plants, including one of the largest displays of camellias in the world.
Devonshire House, Northridge  
Originally owned by Clark Gable and Carole Lombard, this Ranch-style home was later given to the Parks and Recreation Department. It is located in Northridge Park.
The Ebell of Los Angeles, Hancock Park/Windsor Square
Built in 1927, the historic Ebell of Los Angeles is an architectural masterpiece that brings glamour, elegance and legacy to special events. In addition to the Wilshire Ebell Theatre, the property includes a stunning clubhouse. With two ballrooms, an art salon, and a courtyard garden, the Ebell presents a variety of sophisticated settings.
Engine Co. No. 28, Downtown Los Angeles 
This restored 1912 firehouse is now a restaurant with mahogany booths, a granite bar, 18-foot pressed tin ceilings, and red brick flooring.
Exposition Park Rose Garden, Los Angeles  
The heart of the City Beautiful-designed Exposition Park near downtown Los Angeles, this urban oasis is owned by the Los Angeles City Department of Recreation and Parks. The garden boasts 16,000 rose bushes with 300 varieties.
Figueroa Hotel, Downtown Los Angeles  
This Moorish-style building was built as a YWCA in 1925 but has served as a hotel since the 1930s. Its intimate, exotic, garden atmosphere makes it a unique setting for a special event. The hotel features half a dozen private areas, each with a distinctive decor.
Fine Arts Building, Downtown Los Angeles  
The 13-story Fine Arts Building, originally built in 1928 as studios and galleries for downtown artists, was fully restored as a premier office building with ground floor retail uses adjacent to the building's dramatic three-story lobby.
Forest Lawn Memorial Park, see website for locations
Forest Lawn currently offers facilities ranging in size from 80 to 1,200 seats, accommodating a wide variety of events. Since 1927, more than 60,000 people have been married in non-denominational Forest Lawn churches.
Founder's Church of Religious Science, Wilshire Center
Founder's imposing structure, built in 1957, is Los Angeles Historic-Cultural Monument #727. Renowned architect Paul Williams' circular design symbolizes the wholeness, unity, unending, and all-inclusive power of love basic to the church's teachings on Positive Spirituality.
Grapevine Arbor, San Gabriel
Located in San Gabriel's historic Mission District, the Grapevine Arbor was planted in 1861. The site is owned by the San Gabriel Parks and Recreation.
Greystone Park and Mansion, Beverly Hills  
This setting boasts a spectacular view of Beverly Hills and an impressive stone mansion built in 1927 amid acres of formal gardens. Greystone's formal garden features a large fountain at the west end.
Griffith Park Wilson Harding Park Club House, Los Feliz  
Built in 1937 by the WPA, this Spanish Colonial Revival-style clubhouse in Los Feliz features vaulted beam ceilings, arched panoramic windows, and hand-pegged wood floors.
Heritage Square Museum, Northeast Los Angeles  
The eight historic structures located at the museum, constructed during the Victorian era, were moved here to avoid demolition. The museum provides a unique look at the lifestyles of the people who contributed so much to the development of modern Los Angeles.
Hilton Checkers Los Angeles, Downtown Los Angeles
Built in 1927 as the Mayflower Hotel, this downtown building has a Spanish-style facade. The hotel has a rooftop deck with a great view of the downtown skyline.
Hollywood Bowl, Hollywood  
The world-famous Hollywood Bowl has been captivating audiences under the stars since 1922. The site's Patio Restaurant and adjoining gardens accommodate private events.
Hollywood Heritage Museum, Hollywood  
Housed in the beautifully restored Lasky-DeMille Barn (c. 1895) near the Hollywood Bowl, this museum features archival photographs from the early days of Hollywood and motion picture production, movie props, historic documents, and other movie-related memorabilia. Since 1985, the nonprofit Hollywood Heritage Inc. has funded the preservation, restoration, and maintenance of this early Hollywood treasure.
Hollywood Roosevelt Hotel, Hollywood  
Named after President Theodore Roosevelt, the hotel opened its doors on May 15, 1927. The classic Spanish Colonial Revival-style building was designed by H. B. Travers. The hotel was extensively restored and renovated in the mid-1980s to bring it back to its original splendor.
Hotel Bel-Air, Bel-Air  
Built in 1946, the Bel-Air Hotel quickly became a favorite of the rich and famous. Today, the hotel is still considered a legend, drawing the latest Hollywood stylemakers and stars. After extensive renovations, the hotel reopened in 2011, boasting refreshed elegance and glamorous charm reminiscent of its past and Hollywood's Golden Age.
Huron Substation, Northeast Los Angeles  
Built in 1906 by Edward S. Cobb, this substation converted electricity for the L.A. Railway Yellow Cars. The building features antique brick, arched windows, a 45-foot ceiling, and 12-foot-high arched doors opening onto a garden and a vintage-industrial style fountain.
Inn of the Seventh Ray, Topanga  
This landmark restaurant, nestled in the mountains of historic Topanga, offers a romantic country setting with thousands of twinkle lights in ancient oak trees.
Inn on Mount Ada, Catalina  
William Wrigley, Jr. bought 99% of Catalina Island in 1919. He chose the setting for his new home on Mt. Ada (named after his wife, Ada) because it received first sunlight in the morning and the last rays at sunset. The Inn is 350 feet above the town and harbor.
Ivy Substation-Media Park, Culver City  
Built in 1907 by the Los Angeles Pacific Railway Co., the Mission-style substation is in the National Register of Historic Places and is a Los Angeles Historic-Cultural Monument. It was renovated by the Culver City Redevelopment Agency and is home to the Actors Gang.
Japanese Gardens, Van Nuys  
"Suiho En," the garden of water and fragrance, is a 6.5-acre authentic Japanese garden fashioned after "stroll gardens" constructed during the eighteenth and nineteenth centuries for Japanese Feudal lords. Our facility is unique in that it incorporates three classical designs: a dry karensansui, a wet garden with promenade chisen, and an authentic tea ceremony garden incorporating a 4.5 tatami mat tea room. The gardens are part of the Donald C. Tillman Water Reclamation Plant.
Jim Henson Studios, Hollywood
Originally built by Charlie Chaplin in 1917, this sound stage and courtyard used in the filming of Chaplin classics such as The Great Dictator accommodates up to 750 people for private or corporate events. This Hollywood location is currently home to The Jim Henson Company.
Kim Sing Theatre, Downtown Los Angeles  
Once a vaudevillian theatre, then turned kung-fu movie theatre, the Kim Sing Theatre was re-created in 2003 to encompass the charming residence, event and commercial space of today. With the original marquee and bow-truss ceilings still in tact, this space is filled with charm from yesteryears and amplified with modern design and amenities.
King Gillette Ranch, Malibu  
Park features include Gillette's historic Spanish Colonial Revival style mansion and other structures that were part of the original landscape plan. These include a long eucalyptus alleé and grand entry, a large constructed pond, a formal courtyard and terrace, bridges, and lawns.
La Casita del Arroyo, Pasadena  
La Casita was built in 1933 as a project to provide jobs for unemployed residents of Pasadena. Designed by Myron Hunt, the building contains lumber from old bicycle tracks built at the Rose Bowl for the 1932 Olympic Games, and stones from the Arroyo Seco. It was declared a Pasadena Cultural Heritage Landmark in 1976.
L.A. Rail Vintage Railcars, Downtown Los Angeles  
Los Angeles' Union Station is home to a number of unique vintage railcars from the 1940s and '50s. Beautifully restored streamliner cars are available for charter by private groups from 10 to 100.
La Venta Inn, Palos Verdes  
Opened in 1924, La Venta was the first structure to be completed on the Palos Verdes Peninsula. Architects Walter and Pierpont Davis designed the building and the famous landscape architects, the Olmstead brothers, designed the gardens.
Leonis Adobe, Calabasas  
The Leonis Adobe was the home of Miguel Leonis, known as the King of Calabasas. It became the City of Los Angeles' first local landmark, L.A. Historic-Cultural Monument No. 1, in 1962.
Little Brown Church in the Valley, Studio City  
This 50-year-old nondenominational church resembles an old-fashioned wooden chapel. It has a pine interior with hand-hewn pine pews. The Reverend John Wells founded the church where people from all walks of life could find spiritual comfort in a chapel with doors that never closed.
Long Beach Museum of Art, Long Beach  
This museum is housed in a 1911 landmark California bungalow. The oceanfront dining area includes indoor seating in the Historic Anderson House or the outdoor patio that surrounds Claire Falkenstein's water sculpture, "Structure and Flow."
Los Angeles Athletic Club, Downtown Los Angeles
This elaborate 1912 Beaux-Arts style club was designed by John Parkinson and Edwin Bergstrom. It has the atmosphere of an English men's club with a high ceiling and paneled walls in the main dining room, and the classically elegant Centennial Ballroom.
Los Angeles Center Studios, Downtown Los Angeles  
Formerly headquarters for Unocal, the 1958 Tower Building has been restored to its original state, emphasizing classic elements of vintage Modernism including black terrazzo floors, glass and aluminum walls. The 12-story office tower was previously used as a 'vertical backlot,' providing the entertainment industry with practical locations for filming.
Los Angeles Police Revolver and Athletic Club, Elysian Park  
The Los Angeles Police Revolver and Athletic Club, also known as the Los Angeles Police Academy, is a private club established over 70 years ago by Los Angeles police officers as a training facility. It is located in the picturesque Elysian Park area and has surprisingly serene gardens.
Los Angeles County Arboretum and Botanic Garden, Arcadia  
Elias Jackson ("Lucky") Baldwin's Queen Anne Cottage was designed by architect Albert A. Bennett and constructed in 1885-86. The Baldwin Coach Barn, also designed by Bennett, is an equally ornate example of Victorian extravagance. Other displays include the Aquatic Garden, Demonstration Home Gardens, Prehistoric and Jungle Garden, and the Palm and Bamboo collection.
Los Angeles River Center and Gardens, Northeast Los Angeles  
The Los Angeles River Center and Gardens is located at the former site of the Lawry's California Center, near the confluence of the Los Angeles River and the Arroyo Seco. Its Mission-style grounds and conference facilities serve as a focal point for the renewal of the Los Angeles River.
Los Angeles Zoo, Griffith Park  
In 1912 the Griffith Park Zoo opened a few miles from the current Los Angeles Zoo site with 15 animals. The current zoo opened in 1966. The zoo is home to a diverse collection of 1,100 animals, many of which are rare or endangered. In addition, the zoo's botanical collection comprises several planted gardens featuring over 800 different plant species.
Malibou Lake Mountain Club, Malibu  
The Mountain Club was established in 1922 and the clubhouse was rebuilt in 1956. This beautiful facility overlooks Malibou Lake and has a large grassy area that includes a children's play area.
Maxwell House, Pasadena  
The Maxwell House was built in 1929 as a summer "bungalow" adjacent to the Vista Del Arroyo Hotel. It is located on the Western Justice Center campus. Maxwell House was built in the Mediterranean Revival style, designed by the noted architectural firm of Marston and Maybury.
Mayfair Hotel, Downtown Los Angeles  
With 15 stories, the hotel was the tallest building west of the Mississippi when it was built in 1926. This striking Beaux Arts-style building maintains the charm of the Roaring Twenties with marble floors, glass mirrors, etched windows, brass fixtures, and fluted column pillars.
The Mountain Mermaid, Topanga  
This hacienda-style home was built in the 1930s as a country club. In the 1940s, it was used as a summer camp and later a gambling house for Mickey Cohen. The house went into financial crisis until it was restored in 1989. It is now a local watering hole for town meetings and memorials, as well as a horticultural garden.
The Music Center of Los Angeles County, Downtown Los Angeles
The Dorothy Chandler Pavilion, the first and largest venue in The Music Center, was built in 1964 and designed by Welton Becket and Associates using a "Total Design" aesthetic. Three years later, the center's Ahmanson Theatre and Mark Taper Forum opened. Designed by Frank Gehry, Walt Disney Concert Hall, completed in 2003, has become a Los Angeles icon.
Neighborhood Unitarian Universalist Church, Pasadena (formerly Cole House)  
The Cole House was designed by Greene & Greene in 1907 at 2 Westmoreland. Neighborhood Church acquired the property in 1969. One of the tenets of the Arts and Crafts movement was to weave indoor artistry with the natural beauty of the outdoors. The property, next door to the Gamble House, is nestled among towering pine trees that create a sense of "country in the city."
Orcutt Ranch, West Hills  
Orcutt Ranch was the vacation and retirement estate of William Warren Orcutt, an early pioneer of oil production in California. A 24-acre portion of the original estate, including the residence, gardens, oaks, and citrus orchard, is operated by the City of Los Angeles Parks and Recreation Department.
Overland Trail Private Railcar, Downtown Los Angeles  
Built in 1949 as the first-class lounge car for the San Francisco Overland, the Overland Trail features a beautifully restored Moderne interior and gracious quarter circle bar. It's available to rent for private excursions and is berthed at downtown's Union Station (see listing for L.A. Rail Vintage Railcars).
Oviatt Penthouse, Downtown Los Angeles  
Built in 1928, the Oviatt Building once housed the exclusive men's department store, Alexander and Oviatt. James Oviatt's two-story penthouse was furnished with exquisite Parisian furniture. Also distinctive are the Rene Lalique-designed features that appear in the window, skylight, and lighting treatments.
Pacific Asia Museum, Pasadena  
Pacific Asia Museum is housed in a Chinese Qing dynasty-inspired mansion begun in 1924 for Grace Nicholson. Pacific Asia Museum's courtyard is inspired by the classic gardens of China where architecture is in harmony with nature.
The Palace, Hollywood (currently The Avalon)  
The theatre at Hollywood & Vine has been a show-business epicenter since opening in 1927. It was built in 1927 for live theatre production in the Spanish Colonial Revival style. In 1940, as the Palace Theatre, it was used for radio broadcasts and television in the 1950s, before becoming a club and concert venue in 1978. It was remodeled and re-named The Avalon in 2002.
Paramount Ranch, Agoura  
Named for Paramount Studios, Paramount Ranch has been a working movie ranch since 1927. In private ownership in the 1950s the ranch also hosted festivals and western-themed social events. Today, Paramount Ranch is a National Park Service site within Santa Monica Mountains National Recreation Area. (For Paramount Studios information, see The Studios at Paramount)
Pasadena Civic Auditorium, Pasadena  
Built in 1931, the historic 3,029-seat Pasadena Civic Auditorium was the third and last major civic building completed in Pasadena's Beaux Arts Civic Center of the 1920s. With the construction of the Pasadena Center in the 1970s, the Civic became part of a full service convention center.
Pasadena Masonic Temple, Pasadena  
This 1926 Beaux Arts-style building was designed by Cyril Bennett and Sitch Haskell. It is closely linked, in a conceptual sense, with the nearby Civic Auditorium. It boasts a beautiful marble foyer, large ballroom, dining room, and conference room.
Peter Strauss Ranch, Malibu  
Through the twentieth century, this site served first a weekend retreat for race car builder Harry Miller, later as the "Lake Enchanto" resort, and then as the home of actor Peter Strauss. Now owned by the National Park Service, the site features a small amphitheater, a large grassy area, and an oak grove.
Point Fermin Park, San Pedro  
Point Fermin Park consists of 37 landscaped acres of tree-shaded lawns, sheltered pergolas, colorful gardens, and a promenade along the edge of the palisade. Built in 1874, the Point Fermin Lighthouse, a Victorian-style building, is one to the oldest lighthouses on the West Coast.
Queen Mary Hotel, Long Beach  
The historic Queen Mary was built in Scotland, commissioned by the Cunard Steamship Co., Ltd., and was launched on September 26, 1934. She now calls Southern California her home and serves as a floating hotel, unique event location, and historic icon.
Richard J. Riordan Central Library, Los Angeles  
The Central Library was the last work of the major American architect Bertram G. Goodhue, who gave the building the theme "The Light of Learning." Ornamental and symbolic artworks are integral to the library's interior and exterior design.
Romanesque Room, Pasadena  
Built in 1903, the Green Hotel is listed in the National Register of Historic Places. The room now named the Romanesque Room was, in the heyday of the Green Hotel, the Main Dining Room. A separate double-oak doorway with beautiful stained glass window leads to the exquisite ballroom named for its beautiful vaulted decorated ceiling.
Saddlepeak Lodge, Malibu  
The original lodge was a 20′ by 24′ rustic one-room restaurant on Piuma Road in the Santa Monica Mountains. It was built in the late 1930s as a take-out food and beverage restaurant for people traveling to the beach. It was later moved to Cold Canyon Road and developed to resemble an elegant hunting lodge.
San Antonio Winery, Los Angeles  
Founded in 1917, this Los Angeles Historic-Cultural Monument is the last of the sixty wineries that once dotted Los Angeles. The Maddalena Restaurant, located inside the winery, offers dining among century-old redwood aging casks.
San Gabriel Mission Playhouse, San Gabriel
Dedicated in 1927, the playhouse was designed in a Spanish style with Mexican and Indian influences. The theatre seats over 1,300 people.
Santa Monica Bay Woman's Club, Santa Monica
This impressive Classical Revival-style building is a City of Santa Monica Designated Landmark, and it has been hosting important events since 1914. Available for weddings, fundraisers, performances, dances, socials, and receptions. Membership in the club is also available.
Sierra Madre Woman's Club, Sierra Madre (formerly Essick House)
The Essick House was designed by Mrs. Newman Essick. This John Austin-style Craftsman home, constructed in 1914, was used as a private residence until purchased by the Woman's Club in 1972. It was restored through a community volunteer effort.
The Studios at Paramount, Hollywood  
The Studios at Paramount are the longest operating and only major studio remaining in Hollywood. For eighty years, guests have been entering the lot of Paramount Pictures through its world-famous iron gates.
Temescal Gateway Park, Pacific Palisades  
Temescal Gateway Park was developed in 1922 as a West Coast center for the Chautauqua movement. Some of the canyon's earliest structures are still in use. The Presbyterian Synod purchased the property in 1943 and used it as a private retreat center until it became a public park in 1994.
Union Station, Los Angeles  
Designed by the father-son architectural team of John and Donald Parkinson, Union Station opened May, 1939. An artful blend of Mission Revival, Southwestern, Spanish, Moorish, and Art Deco makes up the exterior and interior of the station. It boasts inlaid marble floors, intricate tilework, and elaborate woodwork.
Vibiana, Downtown Los Angeles  
One of L.A.'s few remaining nineteenth-century landmarks, the Cathedral of St. Vibiana was completed in 1876, a stunning work of architecture in a town still emerging from its pueblo origins. The Conservancy prevented the former cathedral's demolition in the 1990s, and it now serves as a popular performance and event venue.
The Victorian, Santa Monica  
Originally built near the Hotel Miramar in 1892 as the residence of one the neighborhood's founding families, this two-story building was moved to its current location in 1973. Completely and carefully renovated, The Victorian has had its main rooms enlarged and the décor is characteristic of the late nineteenth century—a mixture of fine antique furnishings and classical artwork.
Villa Del Sol D'oro (Alverno High School), Sierra Madre  
The facade of this Tuscan-style villa is a two-thirds-scale replica of the Villa Collazi near Florence, which is said to have been designed by Michaelangelo. Famed Pasadena architect Wallace Neff was commissioned to create the house that would be called the Villa del Sol d'Oro. The villa has the elegant black-and-white tiled foyer with a curving stairway and wrought iron bannister that became classic Wallace Neff touches.
Wayfarers Chapel (The Glass Church), Rancho Palos Verdes  
Architect Lloyd Wright conceived the design of Wayfarers Chapel as a "tree chapel," a natural sanctuary set in the midst of a forest. The chapel is one of the foremost examples of Organic Architecture, with walls and ceiling made of glass.
Wilshire Ebell Theatre, Hancock Park/Windsor Square
The Wilshire Ebell Theatre is a 1,270-seat live performance venue. The theatre has as rich history beginning with the West Coast Premiere of Sigmund Romberg's operetta "Desert Song" as the door opening event in 1927. Post-performance special events can be accommodated on property in the Ebell of Los Angeles Clubhouse.
Wiltern Theatre, Wilshire Center  
The Wiltern Theatre (originally the Warner Brothers' Western Theatre) and Pellissier Building is one of Los Angeles' most celebrated Art Deco landmarks. The effort to prevent its demolition was one of the Conservancy's first major successes.
Women's Twentieth Century Club of Eagle Rock, Eagle Rock  
This Craftsman-style building was constructed in 1914. In 2001, club members led a successful campaign to renovate the clubhouse. After more than 90 years, it retains its charm and continues to provide a welcoming environment.
Workman and Temple Family Homestead Museum, City of Industry  
This six-acre site features the Workman House, an 1870s country home constructed around an 1840s adobe built by William and Nicolasa Workman; La Casa Nueva, a 1920s Spanish Colonial Revival mansion noted for its architectural crafts; and El Campo Santo, one of the region's oldest private cemeteries.
Yamashiro Restaurant, Hollywood  
Yamashiro means "Mountain Palace" in Japanese. It was the dream of the Bernheimer brothers in 1911 to build a hilltop mansion to house their priceless collection of Asian treasures. At the outbreak of World War II, Yamashiro's distinctive Asian architecture was disguised, the beautiful carved woods covered with paint. In 1948, the process of restoration began that continues today. For three decades, guests have enjoyed Yamashiro's gracious Japanese ambience and spectacular views.
The York Manor, Highland Park
Located on York Boulevard, this former church constructed in 1913 by architects Train and Williams is available for private events, weddings, and production location rentals. The building was declared a City of Los Angeles Historic-Cultural Monument in 2014.
Zane Grey Pueblo Hotel, Catalina
Built in 1926, the sprawling Hopi Indian-style pueblo is the former home of American novelist Zane Grey (1872-1939). In 1959, it was turned into a hotel with each room named for a Zane Grey novel. The mantle in the pueblo-style living room is massive teakwood beam from Tahiti.