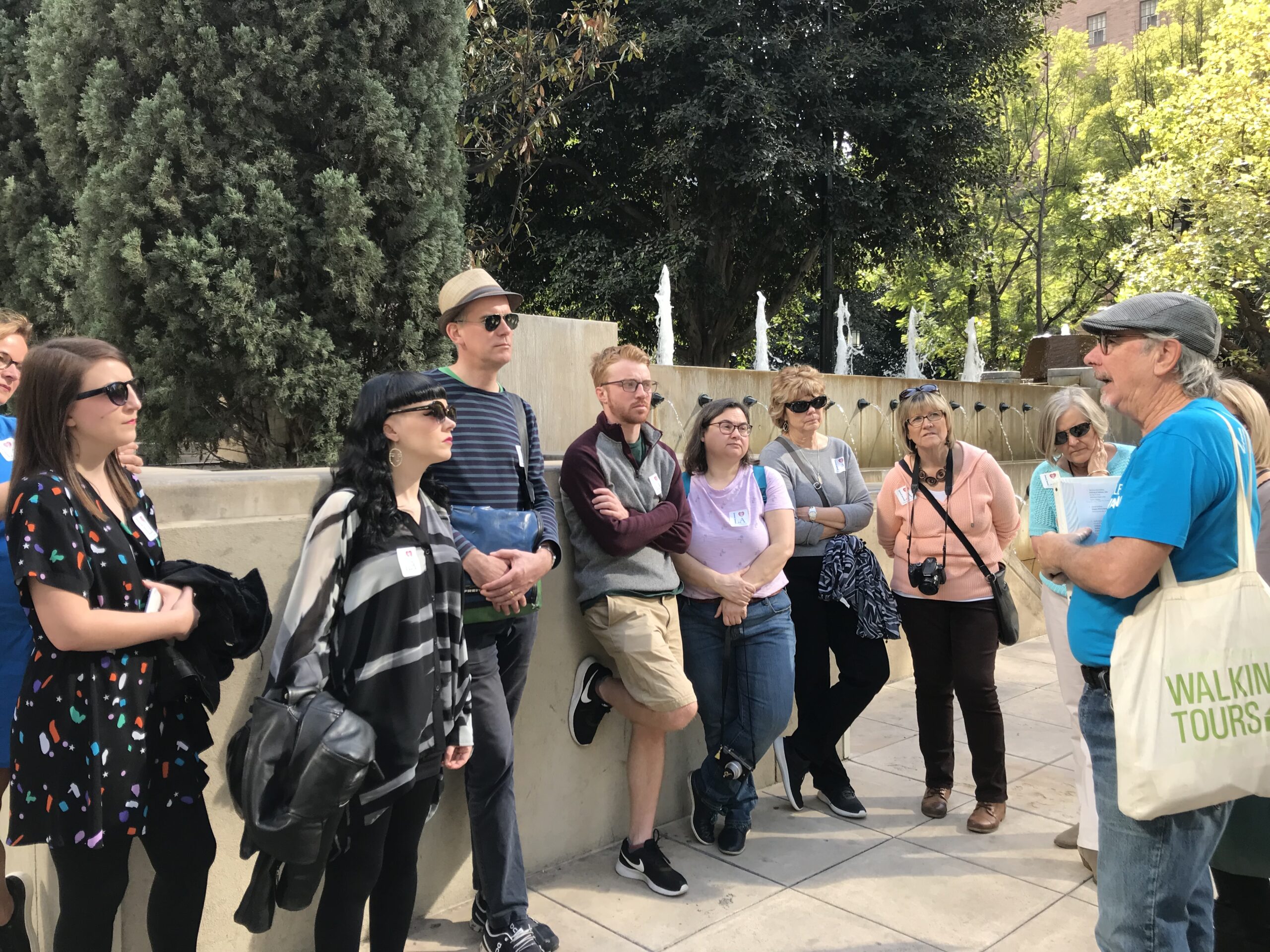 Walking Tours
Rediscover Los Angeles' history through its architecture.
Experience L.A. architecture, art, and history, with the Conservancy's award-winning walking tours!
The Conservancy is a nonprofit organization dedicated to preserving, recognizing, and revitalizing cultural and architecturally significant historic places in Los Angeles. Through our tours, we bring people closer to the places important to the history of Los Angeles.
Consider becoming a Conservancy member to enjoy discounts and presales on programs and events. Learn more.
Featured Walking Tours
Holidays at Union Station

December 5,12, and 19 at 5:30 p.m.

Explore one of L.A.'s most iconic gems, Union Station, during the most festive time of the year.

See Available Tour Dates

Vintage L.A. Christmas: A Live Virtual Tour

December 20 at 6:00 p.m.

Take a virtual trip through L.A.'s Christmas past! We're touring the historic places that made dressing up for the holidays an L.A. tradition.

Read More

Holiday Hightlights

December 14 and 21 at 5:30 p.m.

SOLD OUT!  Join us on Holiday Highlights, a ninety-minute holiday remix that brings some fan favorites together on one tour.

Sold Out
Recurring Walking Tours
Our weekend tours are only $10 for members and $15 for the general public. Starting January 1st, rates will be to $18 for members and $25 for the general public. All tickets purchased before December 31, 2023, including tickets for dates in 2024, will still retain the current price.
Thank you for your support! Your purchase directly supports the Conservancy's mission to preserve the historic places in Los Angeles County.
Check out our tour options below!
Angelino Heights

Every first Saturday at 10:00 a.m.

Explore this hidden Victorian neighborhood east of Echo Park, L.A.'s oldest suburb.

See Available Tour Dates

Art Deco

Saturdays at 10:15 a.m.

Everyone knows that L.A. is a glamorous city. But few know that true Old Hollywood glamour lies in the streets of downtown L.A.!

See Available Tour Dates

The Biltmore Hotel

Sundays at 1:00 p.m. (Currently unavailable)

Known in its early days as "The Host of the Coast, the Biltmore Hotel has a glittering history to tell.

Unfortunately, the Biltmore Hotel tour is unavailable at this time. We hope to bring it back soon.

Broadway Historic Theatre and Commercial District Walking Tour

Saturdays at 10:00 a.m.

Step inside a lavish movie palace and learn how Hollywood history began on downtown L.A.'s Broadway.

See Available Tour Dates

Historic Downtown

Saturdays at 9:45 a.m.

Get a great overview of downtown L.A. history and architecture, from the eighteenth century to the present on this Saturday walking tour.

See Available Tour Dates

Modern Skyline

Second Saturday of every month at 10:30 a.m.

Think skyscrapers aren't historic? Think again! After seeing how downtown L.A. has evolved over the past century, you'll see our beloved skyline in a whole new way.

See Available Tour Dates

Past Meets Present

Fourth Saturday of every month at 10:30 a.m.

Stroll down L.A.'s Spring Street, one of the oldest in the city, and see a vibrant neighborhood thriving against the backdrop of this historic downtown corridor.

See Available Tour Dates

Union Station

Saturdays at 11:00 a.m.

Learn the backstory of L.A.'s iconic Union Station. This extraordinary Spanish Colonial Revival and Art Deco monument was built to serve as the gateway to Los Angeles – a role which, in many ways, it continues to play today. It continues to serve tens of thousands of commuters daily.

See Available Tour Dates

Group Tours (Virtual/In-Person)

Rates start at $180 for 12 people

Arrange a private in-person or virtual walking tour for your group.

Learn more

Student Walking Tour Field Trips

Rates start at $10 per student/One chaperone free per 10 students

Conservancy student field trips are great choices for students, Scouts, youth groups, homeschoolers, and more!

Learn more
Walking Tours FAQs
Learn more about our Walking Tour Program, including important policies and information.
Who Gives the Walking Tours?
Los Angeles Conservancy-trained volunteer tour guides primarily lead tours.
Who are the Los Angeles Conservancy Tour Guides?
Los Angeles Conservancy tour guides are highly trained individuals, passionate about sharing their love of  Los Angeles, history, architecture, and preservation with others. They come to the Conservancy with unique backgrounds and experiences, but they all have the same goal—to share the story of Los Angeles' places with others and to inspire a love for its historic buildings.
Tour Guide Training
All tour guides are volunteers who dedicate their time, energy, and knowledge to serve as the face of the Los Angeles Conservancy's Walking Tour Program. Each guide undergoes a rigorous six-week training course that consists of in-class and on-the-street training. They learn about architectural styles, the history of downtown and its diverse communities, and about preservation and the work of the Los Angeles Conservancy. They learn one to two different walking tours using scripts created by Conservancy staff and train under fellow Conservancy tour guides. Educational and safety workshops are held throughout the year that enable guides to continue their training and meet Conservancy walking tours' high standards.
Please visit our volunteers page for information about becoming a Los Angeles Conservancy volunteer tour guide.
Reservations Required
Advanced registration is required for walking tours. At this time, we are not accepting walk-ups.
Prices and Policies
Tours cost $10 for Los Angeles Conservancy members and youth seventeen and under; $15 for the general public.
Conservancy members can make four adult reservations at the member rate per tour.
All sales are final — no refunds. You may change your reservation date if you contact us at least 24 hours before the tour date on your original reservation.
Please, no pets. Strollers are not recommended.
Please see our information about group tours for groups of twelve or more people.
Registration typically closes 2 hours before the tour.
Responsibility and Release
All participants in the Los Angeles Conservancy-sponsored Walking Tours knowingly and freely accept and assume all risks, both known and unknown, and AGREE TO RELEASE, DEFEND, INDEMNIFY, NOT SUE, AND HOLD HARMLESS the Los Angeles Conservancy, its principals, officers, employees, volunteers, sponsors, agents and other participants from any and all claims, damages (including medical expenses and attorneys' fees), injuries and expenses arising out of, or resulting from your voluntary attendance/participation in Walking Tours.
Major funding for the Los Angeles Conservancy's educational programs is provided by the LaFetra Foundation and the Kenneth T. and Eileen L. Norris Foundation.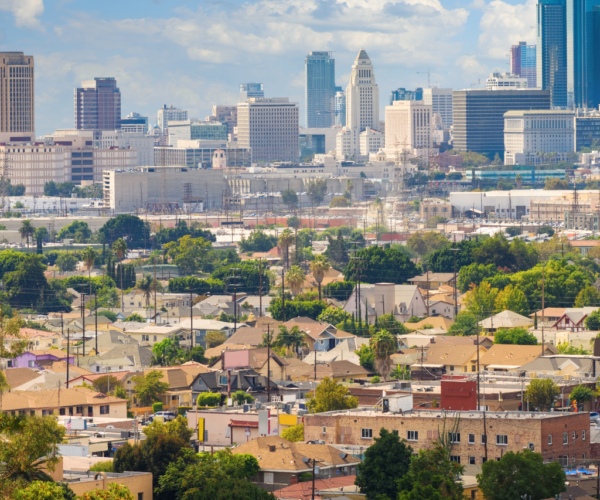 Help Preserve Historic Places in Los Angeles