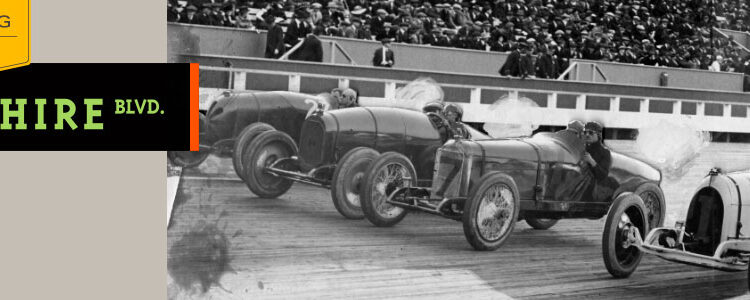 At the turn of the twentieth century, the growth of Wilshire – and Los Angeles – became forever tied to the development of the automobile.
As cars allowed people to quickly travel greater distances, Wilshire expanded just as quickly, filling in the gaps between downtown and the ocean and spurring development all along its length. Wilshire embodied Angelenos' fascination with cars, from racetracks, to the first department store designed for the automobile (Bullock's Wilshire), themed gas stations, and among the city's first automated traffic signals and painted traffic lanes.
Elaborate billboards lined the boulevard. Soon after the country's first neon signs were imported to L.A. from Paris, Wilshire became the heart of a three-and-a-half-mile neon district near Hancock Park, creating an illuminated skyline visible even to speeding motorists.  
As people began living farther from downtown, infrastructure and amenities followed, from parks and places of worship to retail stores, movie theaters, restaurants, and nightclubs. Businesses also began to build their offices along Wilshire.
Lavish Art Deco buildings arose in the 1920s along with the popular Spanish Colonial Revival (and its ornate Churrigueresque incarnation); the Great Depression of the 1930s led to less expensive, streamlined structures.
Office construction resumed in full after World War II, with architecture firms such as Welton Becket and Associates (responsible for more than 25 buildings along Wilshire) helping to define L.A.'s postwar modern architecture in the process. The city ushered in the skyscraper era in 1957, when it lifted the 13-story height limit.
Between 1966 and 1976, more than 22 high-rise office towers arose in Wilshire Center alone. Through these structures, firms such as DMJM, I. M. Pei, William Pereira, and Edward Durrell Stone helped to articulate Los Angeles' corporate modernist aesthetic.