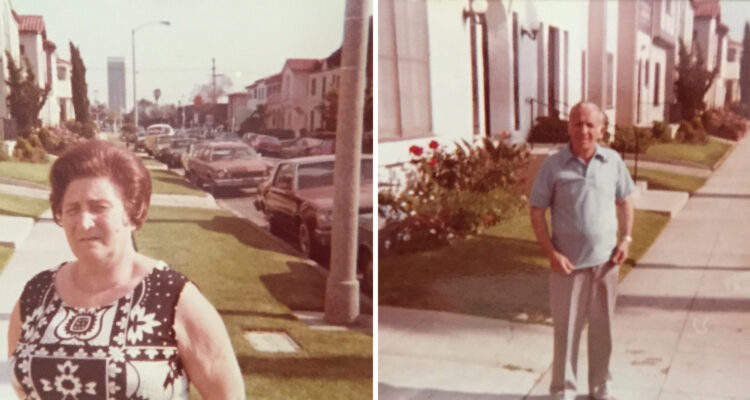 Beverly Fairfax Historic District National Register Nomination
About Beverly Fairfax
Deeply rooted in Jewish American history, the Beverly Fairfax Historic District boasts a collection of largely intact Period Revival homes.
Roughly bounded by Rosewood Avenue, Melrose Avenue, N. Gardner Street, Vista Street, Beverly Boulevard, and N. Fairfax Avenue, the neighborhood includes Spanish Colonial Revival, Late Chateauesque, Tudor Revival, Colonial Revival, Monterey Revival, Art Deco, and Streamline Moderne homes.
Comprised of 463 resources—366 of which are contributing structures—the district houses mostly two-story multi-family homes.
Starting in the late 19th century, many neighborhoods throughout the country had racially restrictive covenants in place. These covenants, which were legally enforceable and integrated into the deed of a property, prohibited an owner from selling or leasing to people of color or ethnic minorities, including Jewish Americans.
With no racial covenants in place, the Beverly Fairfax district became the destination of many Jewish Americans who migrated from the eastside in the 1920s. By 1961, the district was over 60% Jewish.
Due to its large Jewish-American population, the neighborhood became a sanctuary for numerous Holocaust survivors, where they settled and rebuilt their lives after World War II.
Today, the neighborhood remains largely Jewish, with some residents living in the same apartment buildings that their grandparents once called home.
About the Project
In 2016, several major development projects near the district threatened the neighborhood's character. Motivated by findings in SurveyLA—the city-wide survey of historic resources—which identified the district as a historic resource, a volunteer committee of six residents formed the group Save Beverly Fairfax.
Tasked with identifying ways to preserve the neighborhood's architectural and cultural history, the team set out to put safeguards in place.
They spent over a year-and-a-half cultivating relationships with neighbors and homeowners through mailings and meetings—a daunting task, given the size of the district.
The group set their sights on submitting a nomination for the National Register of Historic Places, and worked tirelessly to raise funds to hire a preservation consultant to write the nomination.
The National Register requires that applicants list the correct mailing addresses for all owners. Given that 97% percent of the district's buildings are multi-family homes, the group worked to identify homeowners, which in most cases were multiple owners, businesses, family trusts, or owners who lived elsewhere. Ultimately, the group secured addresses for over 550 owners.
Their hard work proved worthwhile: in October 2018, the Beverly Fairfax Historic District was officially listed in the National Register.
This huge undertaking by a group of residents earned a 2019 Conservancy Preservation Award. Their work exemplifies the value of place and community.