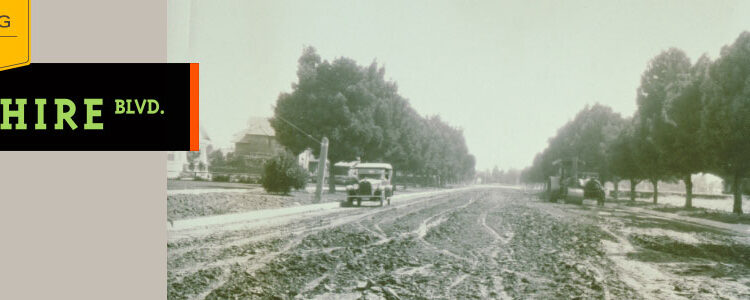 Parts of what we now know as Wilshire Boulevard date back to the area's earliest known inhabitants.
Tongva Indians gathered building material for their settlements from la brea ("the tar") pits in today's Miracle Mile. Part of their trails from downtown to the tar pits and the ocean was later used by Spanish explorers and settlers, who called it El Camino Viejo ("the old road").
The route that ultimately became Wilshire crossed the original pueblo of Los Angeles and five of the original Spanish land grants, or ranchos.
Wilshire was pieced together from various streets over several decades. It began in the 1870s as Nevada Avenue in Santa Monica, and in the 1880s as Orange Street between Westlake (now MacArthur) Park and downtown. Nevada and Orange were later renamed as parts of Wilshire.
The boulevard got its name from millionaire socialist Henry Gaylord Wilshire, who in 1895 began developing 35 acres stretching westward from Westlake Park for an elite residential subdivision. Wilshire donated to the city a strip of land 120 feet wide by 1,200 feet long for a boulevard, on the conditions that it would be named for him and that railroad lines and commercial or industrial trucking would be banned.
As the city developed westward, so did Wilshire. It wasn't until 1934 that the eastern and western ends of the boulevard met, when the final stretch of Wilshire was laid right through Westlake (MacArthur) Park, forever cutting it in two.