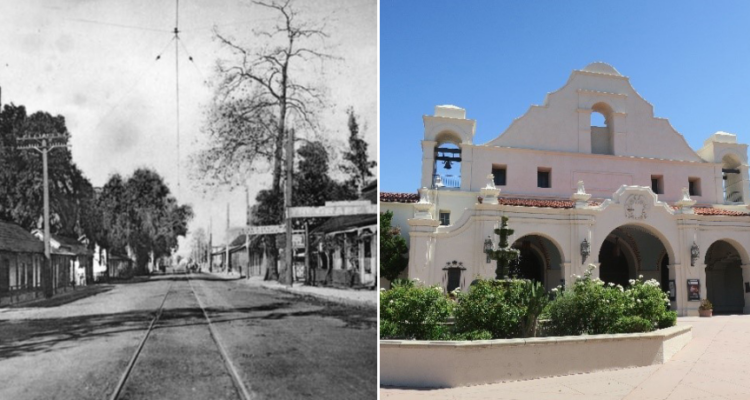 City of San Gabriel Citywide Historic Context Statement
The City of San Gabriel has long been a local historic preservation movement leader. Its first historic preservation ordinance was adopted in 1965—well before other municipalities—and updated in recent years to reflect a true commitment to its residents and rich history.
To strengthen its ordinance, the City set out to prepare an authoritative account of its history that would enable the identification and protection of its historic and cultural resources.  In 2020, amid the COVID-19 pandemic, the City initiated the preparation of a citywide historic context statement.
Preparation of the historic context statement was truly a collaborative effort whose success rested on the active participation of many people and agencies—including City staff, the City's consultant, the Historic Preservation and Cultural Resource Commission, multiple stakeholder groups, including the Gabrieleño Band of Mission Indians and the San Gabriel Historical Association, and residents with a vested interest in its history.
Toward this end, a comprehensive public outreach program was developed to solicit information from various groups and learn about the people, places, and memories that mattered to those who lived, worked, or were otherwise affiliated with the City. A dedicated website served as a clearinghouse for information about the project. At the same time, a public charette allowed stakeholders to learn about and share information. One-on-one interviews with area residents, business owners, and others with deep roots in the community also contributed information about the City's past.
This information, coupled with extensive research, was synthesized into a historic context statement for San Gabriel, identifying important themes in the City's rich and layered history. The document is structured around seven broad contexts, beginning with the early history of the indigenous Gabrieleño/Tonga/Kizh people and culminating in the suburbanization of the community after World War II.
Consistent with guidance provided by the National Park Service and California Office of Historic Preservation, each context is accompanied by registration requirements and integrity thresholds, creating a systematic framework by which historical and cultural resources can be evaluated against federal (National Register), state (California Register), and local criteria.
In October 2021, the City of San Gabriel published its first citywide historic context statement, reinforcing its commitment to recognizing and preserving significant elements of its past. This project marks a major step forward for the City's historic preservation program, which now has a basis for identifying, evaluating, and documenting historic resources within San Gabriel's city limits. It is also intended to help inform future land use and planning decisions to ensure that the City's historic, architectural, and cultural resources are duly recognized and appropriately managed.
The City of San Gabriel is an excellent model for stewardship of its cultural and historic resources. The City was recognized with a 2018 Preservation Award for strengthening its ordinance and a 2022 Preservation Award for its citywide historic context statement. San Gabriel is living up to its city motto as a "City with a Mission!"
2022 Celebration Video
The L.A. Conservancy celebrated the 2022 Preservation Awards winners at the historic Los Angeles Memorial Coliseum with a video showcasing their stories. The program celebrated their hard work, dedication, and achievement. We're thrilled to share City of San Gabriel Citywide Historic Context Statement inspiring story with you.