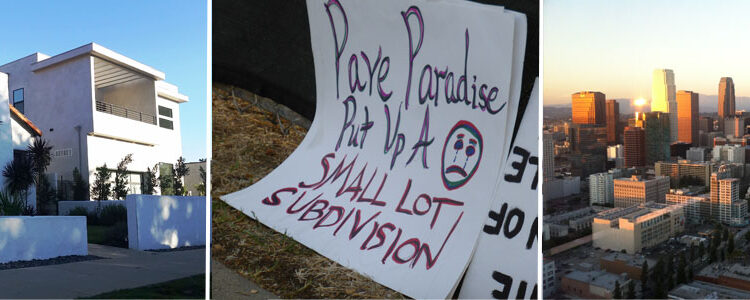 Conserving Community Character
What trends threaten L.A. neighborhoods? 
From residential neighborhoods and commercial corridors to industrial pockets and urban centers, historic places in Los Angeles face threats as decision-makers weigh options for new development throughout the city. The magnitude of change we now face poses unique challenges that are both complex and interrelated.  
As the city grows up—both figuratively and literally—it faces an ever-increasing demand for greater density. There are a lot of good reasons to embrace and support density, particularly along transit lines and near employment centers. 
Unlike other cities, L.A. can more easily build up, since plenty of surface parking lots and non-historic low-scaled commercial strip developments can accommodate larger and taller buildings.  
Nevertheless, the key to preserving community character amid more density is to ensure compatibility between the old and the new. 
This page outlines key issues shaping our neighborhoods today and, perhaps more importantly, presents the tools you can use to advocate for thoughtful growth in your community. 
Mansionization and Teardowns
The practice of tearing down an older single-family house and replacing it with a much larger one has slowly changed the character of L.A. neighborhoods for years. Many proponents of mansionization claim that building larger homes in older neighborhoods increases density. Yet not everything touted as "density" really is density. Learn more >>
Multi-Family Teardowns
Similar to single-family homes, older multi-family residences—including bungalow courts, duplexes, and courtyard apartments—are increasingly vulnerable to demolition in the name of creating new housing. Though the city's housing shortage is a serious matter, these development pressures often result in the loss of existing rent-stabilized units and close-knit communities. Learn more >>
Background Buildings
Background buildings—modest, yet distinctive structures that add to the character of their neighborhoods—are slowly disappearing as changes come to commercial corridors. Block-by-block, these community anchors are being replaced with mid-rise developments that can seem sterile and disconnected from the existing neighborhood. Learn more >>
High-Rise Development
Density is the name of the game in recent development, particularly in downtown and Hollywood. High-rise towers are drastically altering the character and experience of intact and historic urban centers by introducing new proportions and design elements. Though these areas are primed to accommodate growth, we need greater clarity and guidance for managing this new development. Learn more >>
How You Can Help
While the breadth of changes coming to Los Angeles can seem overwhelming, there are a number of policies and tools that can help you and your neighbors conserve the character of your built environment. Some of these are already on the books, while others have just been proposed. 
As we continue this important conversation citywide, we'll need everyone's hard work and determination to advance strategies and possible solutions through collaboration with elected officials, city planners, and other stakeholders. 
Click here explore L.A.'s neighborhood conservation toolkit >>