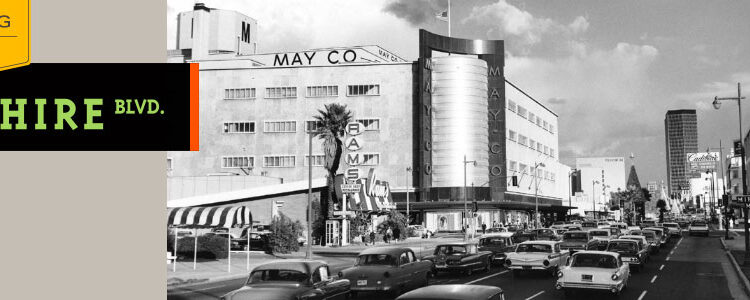 History of Miracle Mile/Carthay Circle
When A. W. Ross began developing this stretch of Wilshire (from La Brea Ave. to San Vincente Blvd.) in the early 1920s, critics predicted the failure of his venture in the tar-soaked fields between La Brea and Fairfax. Yet the automobile and the city's expansion brought throngs of shoppers to Ross development, turning his dusty mile into a miracle of commerce.
Ross' insistence on buildings of distinction, and his early need to request building-by-building variances to the residential zoning of Wilshire Blvd. in this area, led to the neighborhood's wealth of Spanish Revival and Art Deco landmarks, the latter forming a historic district that has been determined eligible for listing in the National Register of Historic Places.
The area has evolved over time with the addition of office towers and the unique grouping of cultural institutions on Museum Row. A City Community Design Overlay Zone protects Miracle Mile's historic buildings and enhances new development.
Extending to the west and south of the Miracle Mile is Carthay Circle, originally called Carthay Center and one of the first planned communities in Los Angeles. It sprang from the creativity of J. Harvey McCarthy, a real estate developer who hoped to rival the Miracle Mile with an attractive shopping complex and hotel surrounded by an enclosed neighborhood of Spanish Colonial Revival and Mediterranean-style homes. His designers master-planned 136 acres with curved residential streets oriented toward a central shopping plaza.
The neighborhood's most unique feature was a California history theme. Streets were named for early California figures, and monuments to pioneers can still be found in the tract. Although the shopping center and hotel never happened, the Carthay Circle Theatre (built in 1926, razed in 1969) brought fame to the development.