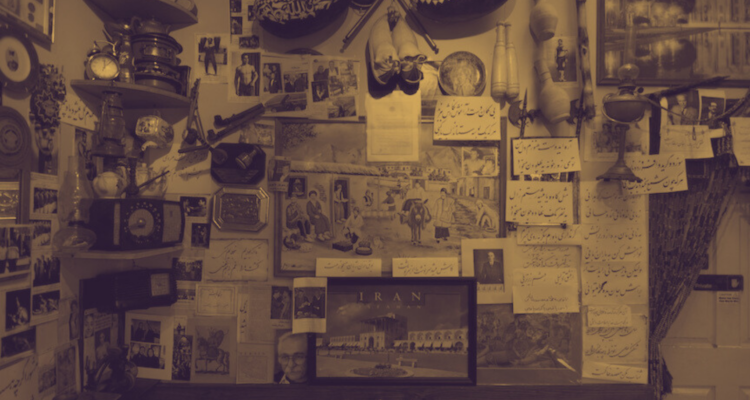 Exploring Iranian Presence and Permeance in Los Angeles
This virtual panel discussion recording is included in your purchase of Irangeles: A Driving Tour.
Panelists include scholars, artists, and chefs who provide context and color to the driving tour and discuss the history, impact, and future of the Iranian community in Los Angeles and beyond. The 1.5 hours recording of a panel discussion followed by the Q&A is accessible via the Vimeo link.
Panelists
Persis Karim

Persis Karim (moderator) is a poet, editor, and Comparative and World Literature professor at San Francisco State University. She holds the Neda Nobari Endowed Chair and directs the Center for Iranian Diaspora Studies. She is the editor of three anthologies of Iranian diaspora literature. Her poetry has appeared in Callaloo, Raven's Perch, Caesura, Nowruz Journal, The New York Times, and numerous other national publications.

Kevan Harris

Kevan Harris is Associate Professor of Sociology at UCLA.  He is the author of A Social Revolution: Politics and the Welfare State in Iran (2017), and The Social Question in the 21st Century: A Global View (2019). Harris directs the Global Iranian Diaspora Program at UCLA's Center for Near Eastern Studies and is the research director of the Iranian Data Dashboard.

Arash Saedinia 

Arash Saedinia was born in Esfahan and raised in Los Angeles. Saedinia studied political science and peace and conflict studies at Berkeley, creative writing at Northridge, and law at Harvard. A writer and visual artist, Saedinia's work engages a range of practices. Saedinia translated Forugh Farrokhzad's Let Us Believe In The Dawn Of The Cold Season during a recent MacDowell fellowship. In 2010, he participated in the photographic exhibition "Document: Iranian-Americans In Los Angeles" at UCLA's Fowler Museum. In 2014, he curated the exhibition "Displacements: The Craft Practices Of Golnar Adili and Samira Yamin" at the Craft & Folk Art Museum. Saedinia co-curated the compilation "Pomegranates: Persian Pop, Funk, Folk And Psych Of The 60s And 70s." He is a professor of English at Los Angeles City College.

Homa Dashtaki

Homa Dashtaki was born in Tehran, Iran to an Iranian-Zoroastrian family. She moved with her family to Orange County, California at age 8. She earned a degree in Comparative Literature at UCLA and a J.D./LLM from Cornell Law School. In 2011 she founded the much loved yogurt company, The White Moustache. She is the author of Yogurt & Whey: Recipes of an Iranian Immigrant Life.

Naz Deravian

Naz Deravian is the author of Bottom of the Pot: Persian Recipes and Stories. She is a Los Angeles-based writer and regular contributor to The New York Times food section. She has also contributed to The Washington Post, The Atlantic, and The Los Angeles Times, among other publications. In 2019, she was nominated for a James Beard Award and Bottom of the Pot was the recipient of The IACP Julia Child First Book Award. Deravian was featured in Padma Lakshmi's Hulu show, Taste the Nation. She was born in Iran, grew up in Canada, and now lives in Los Angeles with her husband and two children.
For additional information, see below.
All participants in the Los Angeles Conservancy-sponsored tours knowingly and freely accept and assume all risks, both known and unknown, and AGREE TO RELEASE, DEFEND, INDEMNIFY, NOT SUE, AND HOLD HARMLESS the Los Angeles Conservancy, its principals, officers, employees, volunteers, sponsors, agents and other participants from any and all claims, damages (including medical expenses and attorneys' fees), injuries and expenses arising out of, or resulting from your voluntary attendance/participation in tours.
This program is presented in partnership with the
Major funding for the Los Angeles Conservancy's programs is provided by the LaFetra Foundation and the Kenneth T. and Eileen L. Norris Foundation.