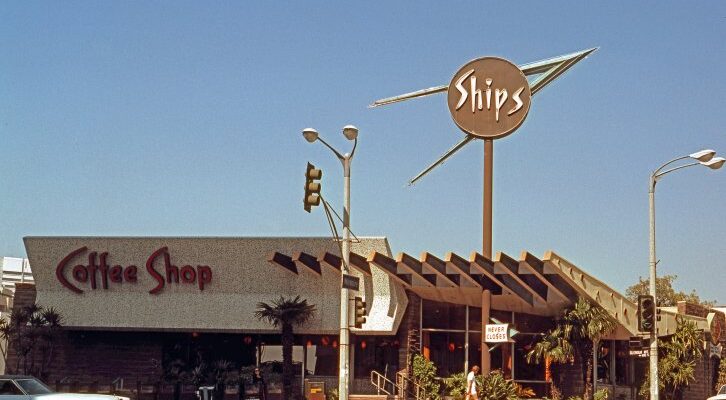 John Ellis on: Ships Coffee Shop
John Ellis on: Ships Coffee Shop
My grandmother, known to my brother and I simply as Nana, enjoyed taking us to Ships on our frequent journeys North from the OC to visit her in Los Angeles.
She lived just down Wilshire (near the Sinai Temple) and loved to take us to the restaurant with the toasters on the table. We always ordered a Ship Shape Hamburger, and you toasted the Sourdough yourself! We so enjoyed this novelty.
We usually ate on the Coffee Shop side, but there was a fancier side to the vaulted space as well. I remember Nana saying how 'this place was a goldmine' remarking at the crowds on a weekend lunch. "They move like lightning," Nana would comment as the waitresses sped by, meeting the needs of their hungry, appreciative guests.
The space age sign, large amount of fenestration and terrazzo tile floors are what I remember most about the physical space. It was our go-to eatery. Nana would develop the background story about the booth in the corner where the man eating alone with 3 kids 'was probably divorced and it's his weekend with the kids and they come here because the kid's love it….'.
Ships was iconic to me as a kid, where I spent so many meals marveling at the delicious food, the toasters and the grand, open spaces where the imagination could soar.