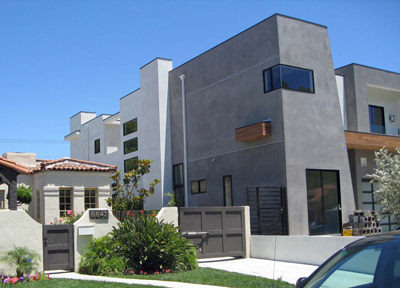 Shelley Wagers on: Fighting Mansionization
Shelley Wagers on: Fighting Mansionization
A twenty-year resident of the historic Beverly Grove neighborhood of Los Angeles, Shelley Wagers worked for a decade with neighbors, the Beverly Wilshire Homes Association, and City Councilmember Paul Koretz to protect their community from teardowns and mansionization. They saw it happening in nearby Beverly Hills and figured it was only a matter of time before the McMansions reached their streets. They were right.
Beverly Grove is the type of neighborhood that draws trick-or-treaters from other parts of the city. Built primarily in the 1920s, it has a combination of quiet charm and close proximity to shopping, restaurants, and museums that has enriched residents' lives for decades—and more recently, made the neighborhood a teardown target.
Beverly Grove also exemplifies what's happening throughout Los Angeles: razing existing homes in established neighborhoods and replacing them with houses up to three times as large.
"It's not about architectural style," says Shelley. "It's about scale and proportion. When you change the scale that much, that alone changes the character of the neighborhood. An out-of-scale home looms over its neighbor; it deprives its neighbor of light, air, and privacy—a lot of the reasons people moved to the area in the first place."
The teardown trend can have more tangible effects as well. "We've had Realtors tell us that living immediately next door to a McMansion reduces the market value of a home by at least $50,000 to $100,000," she says. "We're seeing short-term profiteering at the expense of other people, and at the expense of long-term property values in the community."
Shelley remembers the first time she noticed that the McMansion going up next door had blocked the sunlight entering her home. It was 2004, and the Beverly Grove campaign against teardowns was already under way. An Interim Control Ordinance for the neighborhood in 2006 later proved inadequate because of "loopholes you can drive a McMansion through."
Ditto for the citywide Baseline Mansionization Ordinance, passed in 2008 (with a hillside version passed in 2011). Through exemptions and design bonuses, a few provisions in the baseline ordinance actually encouraged the out-of-scale homes it was meant to prevent.
Just a few neighborhoods, including Beverly Grove, were able to close the loopholes in the baseline ordinance through the creation of Residential Floor Area (RFA) district overlays (see Beverly Grove's RFA ordinance here). Specific to each neighborhood, an RFA overlay provides a specific formula to limit the size of a house relative to the size of the lot.
"As soon as our RFA ordinance passed, we started to hear from people all over the city," she says.
"Very, very few neighborhoods enjoy the protection we have. The others are suffering, and we hear from them almost every day."
Along with residents like Shelley, the Conservancy pressed the City of L.A. to approve a plan for amending the baseline ordinance, which the Department of City Planning estimates will take from eighteen months to two years. "In eighteen months, thousands of houses will be lost," says Shelley. "Thousands of McMansions will be scarring our neighborhoods, and we'll be stuck with them for decades."
With her neighborhood safe from further mansionization, Shelley and her neighbors continue to fight for citywide changes to the baseline ordinance. "I feel like I'm not allowed to complain unless I'm working on something," she says. "I wasn't ready to lay down and let the neighborhood go. And I'm not ready to lie down and let the city go. I think the developers, rightly, have their own interest at heart, and the community needs to actively work in its own best interest. These things don't just take care of themselves."
"This is a very dangerous time," she says. "Developers know the City is considering some changes citywide, and they're shoving into the pipeline everything they possibly can.
"Considering that the fix is so simple and straightforward, we're asking everyone who cares about neighborhoods in Los Angeles to press for more timely work on this issue."
"We're not asking for the sun, the moon, and all the stars," says Shelley. "We're just looking for some sanity."
The Los Angeles Conservancy thanks Shelley Wagers for sharing her story, and we applaud the Beverly Grove activists for their tremendous efforts and hard-won success.