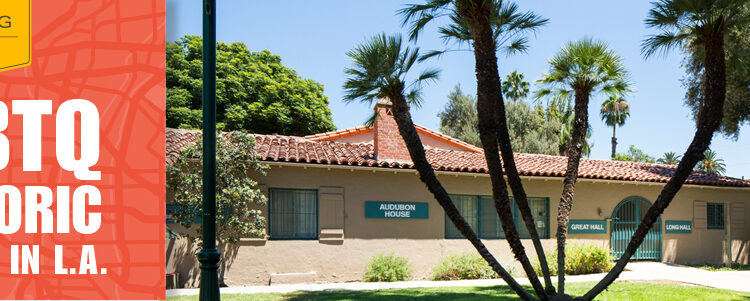 Learn More About LGBTQ Heritage
This microsite is an early step in the Conservancy's broad community dialogue on the preservation of LGBTQ heritage. Please check back for updates on our work.
Share Your Stories of LGBTQ Los Angeles
The stories you see here are just the beginning. We need to hear from you! Please contact us to share your stories about the places on this microsite or others that we should highlight.
You can learn more about efforts to identify, preserve, and protect LGBTQ heritage around the country by visiting the pages below.
LGBTQ History in Los Angeles
Greater Los Angeles is home to numerous institutions that house important LGBTQ collections, including:
LGBTQ Heritage in California and Beyond
In March 2015, Historypin, a map-based community archiving network, launched California Pride: Mapping LGBTQ Histories. Funded by the National Trust for Historic Preservation, the project is designed as an online archive of memories, stories, and images related to important LGBTQ places throughout the state. The California Preservation Foundation is the fiscal sponsor. Visit the Preserving LGBT Historic Sites in California Facebook page for regular updates.
Nationally, the Rainbow Heritage Network advocates for the recognition and preservation of LGBTQ sites, history, and heritage across the U.S. The coalition represents a diverse group of preservationists and activists, and anyone can join. Join the conversation on the Rainbow Heritage Network's Facebook page.
The National Park Service (NPS) also unveiled a new LGBTQ Heritage Initiative in May 2014. The project will include a theme study identifying places, events, and people associated with LGBTQ history in the U.S. for inclusion in the NPS' parks and programs.