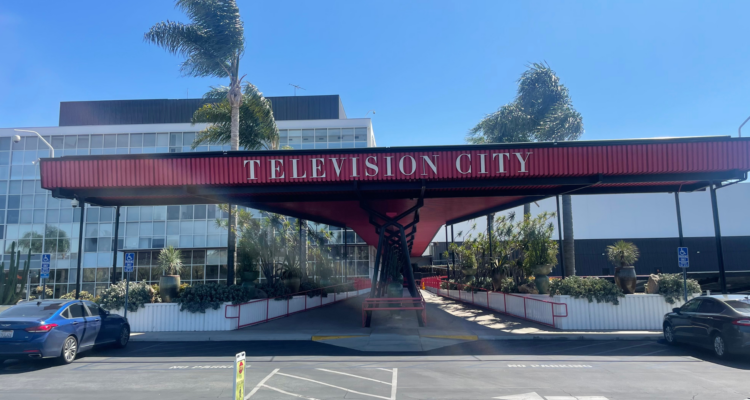 Blog
A Win-Win for Television City
By Adrian Scott Fine, Senior Director of Advocacy
Historic Television City in Hollywood is Saved!
Television City (TVC) is an iconic place in Los Angeles, both for its commanding presence and stature in the Fairfaix District at the southeast corner of Beverly Boulevard and Fairfax Avenue, and for its undeniable lead role in making television history. As a place that helps define this city, and a touchtone to our roots dating to the early '50s, TVC also illustrates just how vulnerable our heritage can be as part of the ongoing surge in growth and new development throughout L.A.
The potential for loss is the reason the Conservancy had Television City designated as a Historic-Cultural Monument (HCM) in 2018. It is also why we have worked so hard for the past year to ensure proposed new development surrounding TVC is compatible and does not overwhelm this historic place. In April, after nearly a year of continuously meeting and working through various aspects, the Conservancy and Hackman Capital Partners, owner of TVC, jointly announced a new, revised plan and win-win solution that provides a balance for preservation and new development at the site.
"Television City is one of the great Hollywood studio lots," says Michael Hackman, Founder and CEO of Hackman Capital Partners. "We are committed to investing in this important historic resource while ensuring it remains a robust job creator and world-class studio for decades to come. We are pleased to have worked with the Conservancy to find a win-win solution that preserves and celebrates the historic building while putting forth a plan that enhances TVC's production operations and expands its production capacity."
The refined plan and solution emerging from our collaboration preserves historic TVC and allows for significant new development at this legendary studio property. A comprehensive framework for a state of-the-art modernization will preserve the historic complex and maintain the 430- foot Beverly Boulevard viewshed. The new proposal for TVC results in the following modifications – all intended to reduce the proximity, bulk and mass of the intended new construction and impact on the historic TVC complex:
Reduction of proposed new construction directly on top of the historic TVC, eliminating 84 percent of overall volume and 102 feet of height
Limitation to single volume rooftop addition with a maximum height of 36 feet, and set back 55 feet from existing TVC Stage Building north facade
Setbacks for proposed eastern (60 feet from TVS Service Building) and western (150 feet from TVC Service Building) production office buildings
Removal of proposed Flex Pavilion in front of existing TVC Service Building, and establishment of 60 feet no-build zone
This proposed project is still in the early phases of the development and approval process. The Conservancy will remain involved and ultimately a part of the formal review process regarding the design and materiality of the proposed new construction.
The Conservancy's goal has been to preserve TVC, though not freezing it in time, but kept in a way where new development does not fundamentally harm this conic L.A. landmark.
Through compromise and working together with Hackman, we think this solution ensures the studio's much-needed modernization while protecting this historic building and maintaining eligibility as a City of Los Angeles HCM. We are grateful to Hackman Capital Partners for not only listening, but also working hard with us to achieve a good balance.
After nearly a year of collaboration, the solution now moving forward significantly reworks a previous design concept released publicly in March 2021, a design concept where the Conservancy had raised strong concerns. Environmental review for the Television City 2050 Specific Plan (TVC 2050) is now underway and we anticipate the release of a Draft Environmental Impact Report (EIR) soon.
A LOOK BACK
In early 2018, the Conservancy started work to protect TVC by initiating the HCM process. This effort followed earlier news that CBS Corporation was interested in selling the twenty-five-acre property. Announcement of a potential sale raised widespread concern over the fate of the architecturally and culturally significant campus, which was identified as National Register-eligible in Los Angeles' SurveyLA (a citywide inventory of potential historic places in L.A.).
Opened in 1952 and known as CBS Television City, it was the first large-scale facility in the United States designed specifically for television production. CBS hired the local architecture firm Pereira & Luckman. Among the architects on the project team were acclaimed architects Gin Wong, James Langenheim, and Charles Stanton. The campus integrated soundstages, studios, editing rooms, offices, rehearsal halls, shops, and storage, all with expandability in mind. On the interior, flexibility was key then and now: studio walls and even some exterior walls can be moved and rearranged to accommodate the needs of specific productions.
For more than six decades and counting, Television City has been the portal for some of America's most beloved television shows. From within its modern and custom designed stages, television broke new ground, from variety/sketch comedy television shows like The Carol Burnett Show to the life of Archie Bunker and the controversial issues of the day in All in the Family. Today, it is home to such popular newer productions like The James Corden Show as well as longtime shows such as The Price Is Right.