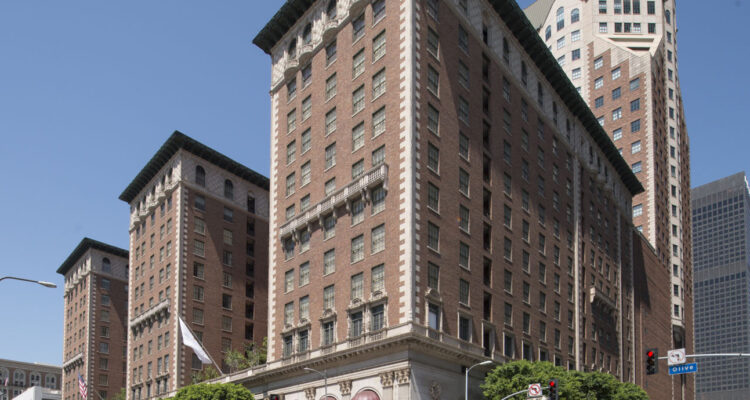 Place
Millennium Biltmore Hotel Los Angeles
Opening to great fanfare in 1923, the Biltmore was then the largest hotel west of Chicago and this day it remains one of L.A.'s best examples of Beaux Arts style architecture.
When it opened to great fanfare in 1923, the Biltmore Hotel was the largest hotel west of Chicago. The firm of Schultze and Weaver, which was also responsible for New York's Waldorf Astoria Hotel and several other prominent downtown Los Angeles buildings, designed the Biltmore in the Beaux Arts style with Renaissance Revival touches.
To this day, the Olive Street façade of the hotel remains one of Los Angeles' best examples of this type of architecture. The hotel's grand meeting rooms are an opulent mixture of European styles including Renaissance, Baroque, Neoclassical and Moorish. Italian muralist Giovanni Smeraldi decorated many of the luxurious interior banquet rooms.
The original lobby (now the "Rendezvous Court") contains a Moorish beamed ceiling and a giant Spanish baroque staircase leading to a 350-foot long galleria. Various ball rooms, each lavishly decorated, lead off the galleria.
During the 1940s and 1950s, the Grand Avenue Bar at the Biltmore Hotel was a popular social gathering place for LGBTQ individuals.
The Grand Avenue Bar was one of many popular LGBTQ centric or friendly establishments located in "The Run" of downtown Los Angeles. From the 1920s through the 1960s, "The Run" was a series of bars, parks, public restrooms, hotels, and bathhouses that were in close proximity to one another and were well-known places for LGBTQ individuals to meet and socialize with one another.
In addition, the Biltmore Hotel was the backdrop to a significant event in the LGBTQ civil rights movement in 1971. The hotel hosted a conference of the International Psychologists and Psychiatrists, which intended to endorse electric shock therapy as the official "cure" for homosexuality.
Activists, including the Gay Liberation Front, interrupted the conference and initiated a dialogue with participants. By 1973, the American Psychiatric Association had declassified homosexuality as a mental disorder.