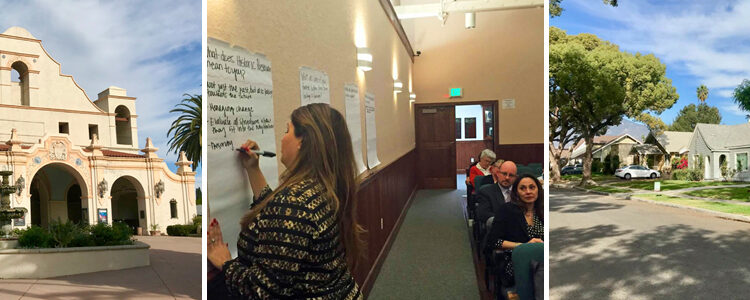 San Gabriel Historic Preservation and Cultural Resource Ordinance Update
The City of San Gabriel enjoys a wealth of historic and cultural resources, including archeological sites related to the Gabrielino-Tongva tribe, the iconic San Gabriel Mission, Spanish Colonial Revival-style buildings of the 1920s and '30s, and cohesive residential neighborhoods.
In pioneering recognition of its cultural resources, San Gabriel became the second city in Los Angeles County (following the City of Los Angeles) to adopt a historic preservation ordinance in 1965. During the ensuing half-century, the City designated and protected local landmarks and completed historic resource surveys for four portions of the city, ranging from the historic Mission District to commercial architecture along Valley Boulevard.
While the 1965 ordinance was groundbreaking at the time, it grew outdated and out of pace with current historic preservation practice and law. The City of San Gabriel undertook a two-and-a-half- year effort to update its ordinance for the twenty-first century.
Throughout the process, the City prioritized the people who live and work in San Gabriel. The team held community meetings and study sessions encouraging residents to pose questions about the ordinance, offer feedback, and discuss issues. The updated ordinance uses clear, concise language and is free of jargon, making it user-friendly for the people of San Gabriel.
One of the most significant updates calls for the creation of a Historic Preservation Commission to serve as the City's dedicated body of historic preservation experts—which San Gabriel has never had. It prioritizes the creation of a historic context statement and a citywide survey of historic resources.
It also gives San Gabriel the ability to protect and maintain the cohesive, historic feel of residential neighborhoods through the designation of historic districts and the establishment of Conservation Overlay Zones.
The updated ordinance will allow San Gabriel to take its historic preservation program to the next level. The ordinance was written with the goal of enabling San Gabriel to achieve Certified Local Government (CLG) status. The CLG program forms a partnership among participating local governments, the State Office of Historic Preservation, and the National Park Service.
Jurisdictions designated as CLGs are eligible for state and federal grants to support efforts such as preservation plans, historic resources surveys, and preservation education and outreach programs. A jurisdiction's status as a CLG indicates both a high degree of protection for historic resources and a strong commitment by local government to continue improving its preservation programs.
The City of San Gabriel's updated ordinance represents a true commitment to its citizens and the rich history the people wish to recognize and preserve. This effort earned a Conservancy Preservation Award in 2018. Congratulations to all the individuals and organizations who contributed to the updated ordinance.