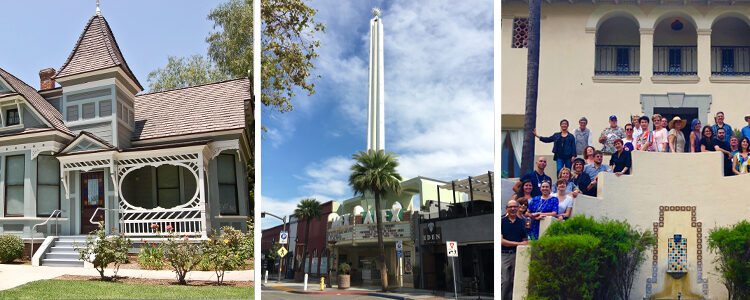 The Glendale Historical Society
2020 Preservation Award Recipient
The Glendale Historical Society (TGHS) was founded in 1979 when a group of residents mobilized to save the 1888 Doctors House from demolition. One of only two remaining Queen Anne-Eastlake homes in Glendale, the Doctors House remains the community's most tangible symbol of Glendale's history and architectural heritage, and TGHS's contributions to conserving both. TGHS helped save the home, named after four doctors who occupied the property in succession but had to relocate it to Brand Park. The city-owned property was restored by volunteers and opened as a house museum operated by TGHS in 1984.
Since then, the Glendale Historical Society has helped save many of the city's historic resources, including the 1892 Goode House (Glendale's other Queen Anne-Eastlake) and the 1925 Alex Theatre. They also have had a decisive influence on the city's preservation ordinances and policies.
In the 1980s, TGHS secured a grant from California's Office of Historic Preservation to survey historic properties in downtown Glendale. Survey results were a critical resource in convincing the City of Glendale to protect the city's most significant buildings. In 1985, TGHS championed the city's Historic Preservation Ordinance, delaying demolition of potential resources to allow for evaluation. Same-day demolition permits for all buildings over 30 years old were then eliminated in 2003. Glendale enhanced its commitment to historic preservation by becoming a Certified Local Government and fully participating partner in national and state historic preservation programs in 1988.
Glendale became the first city in Los Angeles County to adopt the Mills Act in 1992. TGHS was also actively involved in the creation of the City's 2003 Historic District Overlay Ordinance and helped develop the Historic District Design Guidelines released in 2007. The following year, TGHS members applied to designate Glendale's first historic district, Royal Boulevard. As of 2020, Glendale has seven historic districts with four underway.
The creation of the Glendale Historical Society's Preservation Advocacy Committee in 2012, marked the beginning of a more comprehensive and proactive preservation strategy, including routine monitoring of at-risk buildings, consistent pressure on the City to recognize as historic properties not formally designated on the Glendale Register of Historic Resources, regular written and oral comments on environmental clearance documents prepared for projects impacting a wide range of historic properties, and successful mobilization of its membership on urgent preservation issues. It also offers grants toward Historic District application fees.
The Glendale Historical Society recognizes and advocates on behalf of historic resources associated with the city's diverse populations, which is particularly important given Glendale's infamous history of racial discrimination. TGHS is collaborating with the Armenian-American Museum and Cultural Center on a lecture about the history of the Armenian community in Glendale.
Forty-one years after its founding, the all-volunteer nonprofit has over 800 members. Its collaborative efforts with city officials and staff, neighborhoods, property owners, and other organizations, have resulted in establishing and strengthening Glendale's preservation ordinances, saving a number of important buildings from demolition, designations of more than 100 historic landmarks, and the creation of historic districts. Through tours, panels, workshops, and an annual restoration expo, TGHS educates and engages the community to ensure Glendale's historic fabric is preserved even as the city grows and changes.
The Conservancy recognized the Glendale Historical Society's achievements in historic preservation with a 2020 Preservation Award.