Architect
Charles Luckman
A businessman, architect, and developer, Luckman holds a distinct place in the history of historic preservation in America.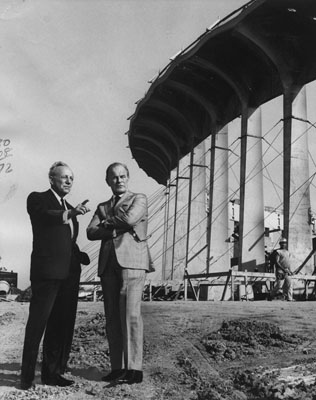 Charles Luckman, FAIA (1909-1999)
"I am firm in my belief that architecture is a business and not an art," Charles Luckman once told a writer for The New Yorker.
He led the creation of some of L.A.'s great buildings. Yet he also designed the Madison Square Garden building that replaced New York's Penn Station, whose demolition catalyzed historic preservation across the country. He also recommended the replacement of the Los Angeles Central Library in the 1970s. The successful effort to preserve the downtown icon led to the formation of the L.A. Conservancy.  
Born in Kansas City in 1909, Luckman graduated with honors from the University of Illinois School of Architecture in 1931. With few architectural positions available during the Depression, he was forced to take a job designing advertising pamphlets at the Colgate-Palmolive-Peet Company. 
His natural business acumen led Luckman from draftsman to salesman, then president of the Pepsodent Company, which was eventually acquired by Lever Brothers. Before he turned thirty, Luckman had graced the 1937 cover of Time magazine as the "Boy Wonder" of corporate America. At 37, he became president of Lever Brothers. His corporate mindset would influence his architectural designs for the duration of his career.
In 1950, after hiring Skidmore, Owings, and Merrill to design Lever's headquarters on Park Avenue, Luckman returned to practicing architecture. While his business-minded approach to architecture was often deemed unartistic by contemporaries and critics, he was a genuine advocate for Modern design. 
With Los Angeles as his home base, Luckman would establish several firms that would produce some of the most prominent Modern structures in the city. Charles Luckman Associates constructed the legendary "Fabulous" Forum, the Los Angeles Convention Center, and Aon Center on Wilshire Boulevard. 
Luckman Partnership was responsible for the Warner Bros. Office Buildings in Burbank, and along with I.M. Pei, the design of 6500 Wilshire Tower. He partnered with renowned architect William Pereira to form Pereira and Luckman, the firm responsible for creating CBS Television City and the iconic Theme Building at Los Angeles International Airport.
Luckman and his wife Harriet were generous patrons in Los Angeles and dedicated the latter part of their lives to education and the arts. He received numerous architectural awards and was politically active, working with eight presidents dating back to Harry Truman. Luckman died in 1999 at the age of 89.