Architect
Edward Fickett
Edward Fickett was remarkably prolific in postwar Southern California, attributed with designing 50,000 homes or more. Yet because much of his work was for large tract-home developments, his talents were largely unheralded until recently.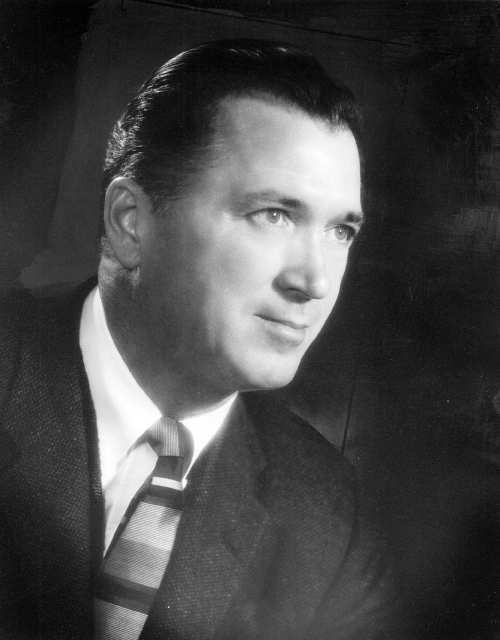 Edward Fickett, FAIA (1916-1999)
Born in 1916 as a fourth-generation Angeleno, Edward Hale Fickett was a son of a contractor and was himself a Navy veteran. He received a bachelor's degree in architecture from USC and a master's degree from MIT. Before forming his own firm, Fickett worked for renowned architect Paul R. Williams.
In the 1950s, 10,000 Fickett homes—in the beginning, a blend of Modern with traditional facades—were constructed in the San Fernando Valley alone. He helped develop Sherman Oaks, Reseda, and Granada Estates. 
Developments include Meadowlark Park (1953) in Reseda, Sherwood Park (c. 1956) in the Hollywood Hills, and Rollingwood Estates (1955) in Palos Verdes. He also designed multifamily housing that's now recognized as significant, including the Sunset Lanai (1952) and Hollywood Riviera (1954) in West Hollywood.
Typical features of Fickett's tract homes included open, L-shaped floor plans; glass walls; and playful rooflines. Part of his acumen was his ability to design for land that many considered unbuildable. He was so prolific that today, many homeowners don't even know they live in a Fickett house. 
His talent was certainly not limited to tract housing. He designed custom homes, residential housing for military bases, restaurants, and the Port of Los Angeles, to name a few. He also served as architectural adviser to President Eisenhower.  
Fickett lectured across the country on Modernism with fellow architects Richard Neutra and R. M. Schindler, and he was active on numerous planning committees. He steadfastly promoted Modern principles and advocated for Modern, efficient, and affordable housing for returning veterans and average American families. Nevertheless, his talents received limited acclaim. 
Fickett died in 1999 at the age of 83. Despite his huge body of work, he remained relatively unknown until recent years. His contribution to Modern architecture in Southern California is finally receiving the recognition it so richly deserves.
Related Places
Place

Sunset Lanai Apartments