Architect
Greta Grossman
One of Modernism's unsung heroes, Greta Magnusson Grossman was one of the few female professionals to play an integral role in the Los Angeles Modern movement.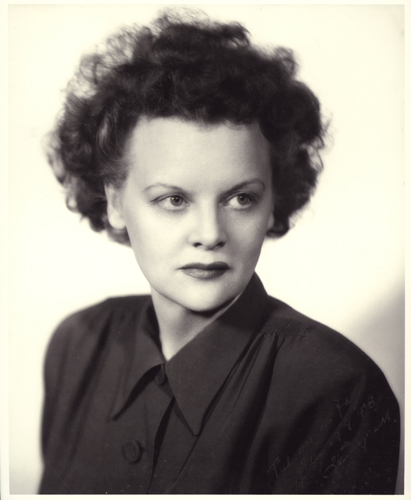 Greta Grossman (1906-1999)
From the 1940s to the 1960s, Greta Grossman was the city's only female architect to own an independent practice. She was a pioneering and award-winning interior designer, industrial designer, and architect who sustained a prolific forty-year career, yet vanished into obscurity by the 1960s. 
Born in 1906 in Helsingborg, Sweden, Greta Magnusson received a scholarship to the renowned Swedish art institution Konstfack. She became a critically acclaimed furniture designer and entrepreneur, with her own store and workshop. Her work was exhibited in numerous Swedish museums, and she was the first woman to receive an award for furniture design from the Stockholm Craft Association.
In 1940 she married jazz musician Billy Grossman and moved to the United States. The glamorous couple with great fanfare, with Mrs. Grossman telling the press that all she needed for life in Southern California was "a car and some shorts."
The couple settled in Los Angeles, where she launched her brand of Swedish Modernism. She opened a hugely successful studio in Beverly Hills, creating interiors for celebrity clientele and designing cutting-edge furniture and lighting, often for major furniture companies. Original Grossman-designed objects are now highly sought after.
From 1949 to 1959, Grossman designed fourteen homes in the Los Angeles area, all based on the Case Study House design principles, but on a smaller scale. Yet it was their construction that revealed Grossman's architectural acumen. Many of her glass-walled houses stood on problematic hillsides, requiring stilts and other structural solutions. Approximately ten Grossman-designed homes still stand, including the Hurley house, the Frances Nelson houses, and the Jim Backus house, an undersized Modern gem set among stately mansions in Bel-Air. 
The mid-twentieth century marked the height of Grossman's career. She taught at UCLA and at Art Center in Pasadena, was lauded by contemporaries and critics, and received considerable press coverage. Her work was featured regularly in Arts & Architecture magazine.  
Grossman undoubtedly helped define California Modernism. Yet in 1966, with no fanfare, she simply departed the world of architecture and design. She retired to a house she built for herself in Encinitas, California and spent the rest of her life painting landscapes until her death in 1999.
After decades in the shadows, Grossman's work has recently gained the recognition it deserves, with books, exhibitions, and hefty auction prices for original works. Yet her architectural legacy lies in jeopardy, with only a scant handful of examples still remaining. 
Related Places