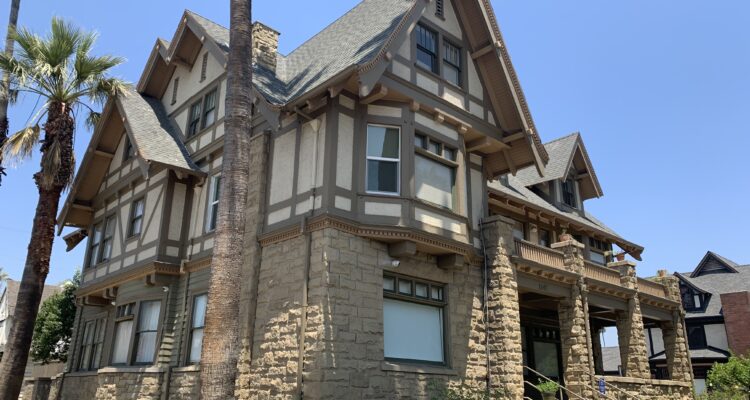 Place
Alcoholism Center for Women
In the fall of 1974, Brenda Weathers and a cadre of lesbian activists and service providers from the Gay Community Services Center (now the LGBT Center) walked up to the sagging porch of 1147 S. Alvarado St. Within the deteriorating ten-bedroom, two and a half story Tudor Revival home in Pico Union, they founded a groundbreaking program – an alcohol rehabilitation center and community space specifically for women and lesbians. Soon, with plants hanging by macrame rope to enliven spaces, parlors and bedrooms are now offices and community rooms. Next door at 1135 S. Alvarado, staff scrubbed grease from the kitchen floor and rearranged furniture in the recovery home. 
The formation of Alcoholism Center for Women (ACW) in 1975 marked an important shift in Los Angeles' gay liberation movement, as the rise of street-based activist groups in the 1960s gave way to an institutionalization of quasi-public spaces in the 1970s dedicated to improving LGBTQ+ peoples' material and metaphysical wellbeing. The two houses offered women, largely lesbians, an array of programming to support sobriety as well as social events to combat social marginalization and foster community. In the 1980s ACW began a pioneering program led by and for Black and Latina women.  
In 1987, 1147 and 1135 S Alvardo St. were threatened by demolition to make way for a mini-mall. ACW initiated a grassroots campaign that drew in major political leaders like Elizabeth Snyder and Maxine Waters, as well as preservation organizations like the L.A. Conservancy, to nominate the buildings as Historic-Cultural Monuments (HCMs) The buildings were designated for their architectural significance and with support from the Community Redevelopment Agency of Los Angeles (CRA/LA), ACW bought and rehabilitated the properties.  
ACW continues its mission to serve marginalized women and care for the buildings. Current clients, like those for the last fifty years, help maintain the grounds and home as part of their recovery process. Conservation is an ongoing and reciprocal relationship of care between the buildings and the women they shelter.