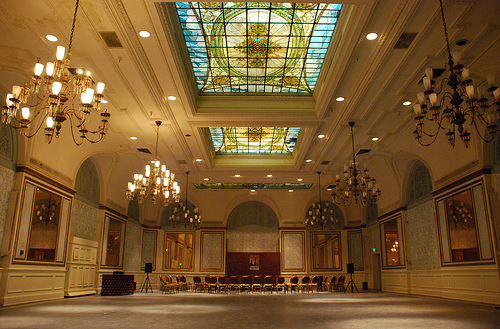 Place
Alexandria Hotel
Constructed in 1906 at the then almost unheard of cost of $2 million, the hotel then added a large addition in 1911. The addition included a beautiful banquet hall with a spectacular stained-glass ceiling, now known as the Palm Court.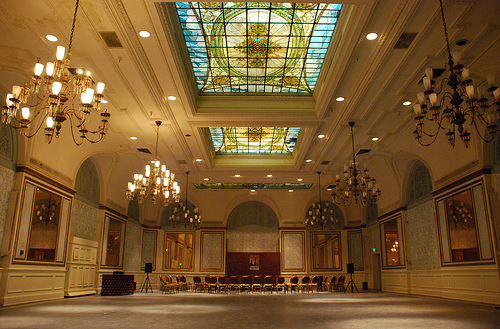 The Alexandria Hotel, named for the owner of the property, Harry Alexander, was Los Angeles' most elegant hotel before the construction of the Biltmore in 1923. Among the hotel's illustrious guests were President Theodore Roosevelt, King Edward VIII of England, boxer Jack Dempsey, opera star Enrico Caruso, and movie stars Mary Pickford and Charlie Chaplin. The site was developed in 1906 by the Bilicke-Rowan Fireproof Building Company, at the then almost unheard of cost of $2 million. Designed by John Parkinson, the hotel has a modest Beaux Arts pressed brick and terra cotta façade, distinguished by large sculptures of griffins.
Originally, the stately marble entrance lobby had massive marble columns reaching two stories from the lobby to the gold leaf ceiling.
The lobby was drastically remodeled in the late 1960s when a mezzanine was added, which cut the lobby height in half. The glory of the hotel is the 199-foot Palm Court, a room with a spectacular stained glass ceiling that has been declared a Los Angeles Historic-Cultural Monument. Bilicke and Rowan sold the hotel in 1919, and after a succession of owners the hotel went bankrupt and closed in 1932. The Alexandria re-opened in 1937 and has had many different owners in the subsequent years. The hotel was renovated in 1969-70 in a neo-Victorian style, and in 2005 was converted into rental units.