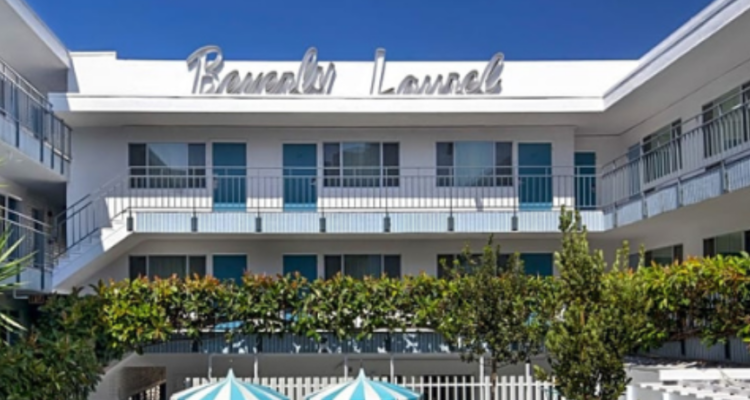 Place
Beverly Laurel Hotel
Thanks to a loving renovation of the Beverly Laurel Motor Hotel, one of Los Angeles' most iconic examples of Mid-Century Modern roadside architecture is once again firing on all cylinders.
The 1967 Beverly Laurel Motor Hotel is one of the few remaining intact roadside motor hotels left in Los Angeles. Designed by architect Arthur Smith, the Beverly Laurel features an attractive courtyard pool, visible from Beverly Boulevard and an eye-catching Googie-style corner diner, "Swingers." The beloved legacy business in the Fairfax District has been beckoning customers with the promise of hot coffee and hearty fare for nearly thirty years. The hotel has been owned and operated by the Adler family since its opening day in 1967 and has weathered many challenges over the decades, from the gas crisis of the 1970s and the rise of competitive chain motels to threats of re-development and the COVID-19 pandemic.
By 2014, deferred maintenance had faded the motel's roots in the neighborhood and weakened its mid-century pedigree. Still having good bones, the project's limited budget mandated that no more than minimal structural changes be made. The design team set out to improve the hotel's strengths while making subtle reconfigurations that kept Beverly Laurel's spirit intact. Navigating a minefield of codes, the Beverly Laurel's restored the mid-century luster while optimizing its function.
The deteriorated courtyard and pool decking were replaced, and the pool's original coping was resourced and replaced with tiles that recaptured the pool's original feel. Signage plays a major role in roadside architecture. Hence, the project rehabbed Beverly Laurel's signs and updated them with LED lights so that the hotel's iconic signage still burns brightly on the Boulevard. The hotel's original signature color, blue, is given homage through aquamarine-colored lighting and coloring throughout the property. During the COVID-19 pandemic, locals quickly raised awareness of the closure of the hotel's iconic diner, "Swingers," fearing the neighborhood favorite would be another casualty of the pandemic.
Thankfully, the Adler family worked diligently to ensure that a new lease fell into the right hands, and "Swingers" is back and more popular than ever. The Beverly Laurel Hotel renovation was a relatively small-scale project but greatly impacted the neighborhood by re-establishing itself as an essential part of the vernacular streetscape. It demonstrates a sensitive design approach that enhances a historic resource for the future while reminding Angelenos of its unique place in L.A. history.
The Conservancy recognized the Beverly Laurel Hotel's loving renovation and contributions as a historic resource to the Fairfax District with a 2022 Preservation Award.
2022 Celebration Video
The L.A. Conservancy celebrated the 2022 Preservation Awards winners at the historic Los Angeles Memorial Coliseum with a video showcasing their stories. The program celebrated their hard work, dedication, and achievement. We're thrilled to share Beverly Laurel Hotel inspiring story with you.