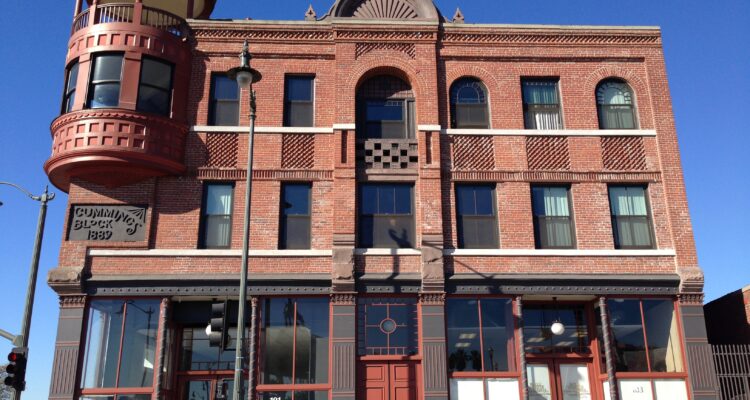 Place
Boyle Hotel (Cummings Block)
Completed in 1889, the Boyle Hotel traces the evolution of Boyle Heights from an agricultural community to one of Los Angeles' earliest suburbs to a vibrant center for Latino culture.
Saved
The Boyle Hotel, converted into affordable housing in 2013, stands as a prime example of preservation and adaptive reuse.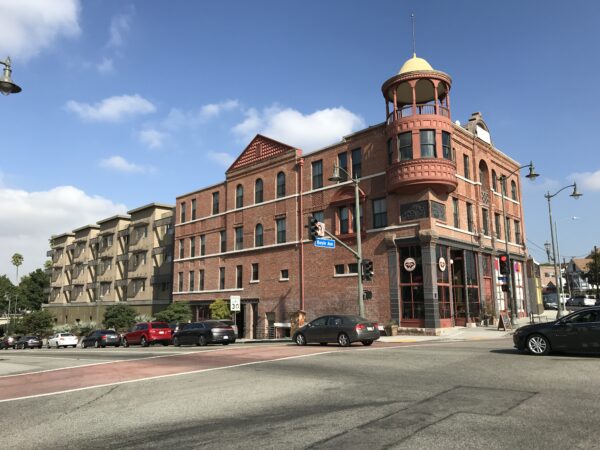 Overview
Originally a fashionable hotel and retail block, this exuberant structure has always been a prominent anchor along East First Street in Boyle Heights.
A community-based effort headed by East Los Angeles Community Corporation (ELACC) with technical assistance from the Conservancy worked to save this neighborhood icon and transformed it into affordable housing, earning it one of the Conservancy's 2013 Preservation Awards.
About This Place
About This Place
After decades of neglect and insensitive renovations, the nineteenth-century Boyle Hotel was in a visibly dilapidated state. The level of disrepair included missing or broken windows and doors.  With its prominent location at Boyle Avenue and First Street, the venerable building was also at risk of being lost to new development.
The East Los Angeles Community Corporation (ELACC), sensing that the Boyle Hotel could be targeted by developers who might demolish the building to make way for new development, purchased the building in 2006 with plans to preserve and rehabilitate the structure.
With technical assistance from the Los Angeles Conservancy, ELACC sought and received funding from a number of local, state, and federal sources that made the rehabilitation of the Boyle Hotel possible. After funding was secured, the $24.6 million rehabilitation project seismically retrofitted the building and converted it into low-income housing, while restoring the exterior to its original appearance.
Original cast-iron storefront columns were uncovered, while the corner turret and other missing architectural elements were reconstructed. Many interior features were restored as well, including the grand staircase and foyer and wood trim and molding recovered during the rehabilitation.
Part of the project involved the construction of additional housing units directly adjacent and connecting to the rear of the Boyle Hotel, providing a total of 51 units of affordable housing. The ground floor of the Boyle Hotel contains three commercial spaces and a Mariachi Cultural Center providing space for local mariachis to gather and practice.
Our Position
The Conservancy was proud to offer technical assistance to ELACC as they sought funding from local, state, and federal sources that made the rehabilitation possible.
The Boyle Hotel stands as a prime example of preservation and adaptive reuse, demonstrating the viability of projects that pair the rehabilitation and restoration of historic buildings with adjacent new construction.
Through a determined, community-based effort that saved the building by transforming it into much-needed affordable housing, the Boyle Hotel once again inspires, educates and actively serves the community.